The topic of health and wellness did not take much precedence before the COVID era. Ever since the pandemic more brands are making an effort to create genuine communication for the public. Fans look up to their most loved brands, hence making it easier for them to receive the message to stay indoors, to donate, to stay safe, to practice wellness rather than fall prey to illness and much more.
But did you know – World Health Day is actually held to mark WHO's founding. WHO sees this day as an opportunity for the organization to draw worldwide attention to a subject of prime importance – the health of the world. Therefore each year the organization comes up with a new focus or a theme. Let's see how creative everyone's favorite brands got so far on World Health Day.
1) Subway
Targeting the source of many health problems in general, World Health Day turns out to be the perfect special day to celebrate for the sandwich brand. Eat right. Stay Healthy!
2) Frozen Bottle
If we don't call our health works super then what do we call them? Smooth move made with the help of just 3 symbols by Frozen Bottle.
3) Gordhan
It was about time people realized the importance of fruits and veggies and stopped taking them for granted. Hope Gordhan Restaurant's message was loud and clear on World Health Day!
4) Hockey India
One player congratulating another is the true spirit of sportsmanship. Hockey India praises the frontline players of the pandemic in a simple yet thoughtful way.
5) Durex
While all the focus has been on COVID and maintaining social distancing in public, people tend to forget other ways of contracting diseases. Stay safe in every way. Happy World Health Day!
6) ICICI bank
For once it's the other way around where banks are banking on people. A smart reminder by ICICI bank to stay indoors.
7) Amul
Amul always has a way of turning heads. They created their own acronym for World Health Day. This is one butter brand you will never forget.
8) Mother Dairy
https://m.facebook.com/MotherDairy/photos/a.243792022394355/3821183394655182/?type=3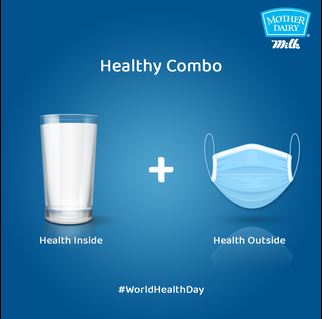 In a world where people are crazy after discounts and offers, Mother Diary takes the opportunity to display the most meaningful combo offer on World Health Day. After all, what you do for your health on the inside is as important as the outside.
9) Indigo Paints
What about the health of your home? Dust, mold and leakages in your home also need your attention from time to time. Just like you focus on your health, focus on the health of your house too – now that's a smart way to put it.
10) Decathlon
https://m.facebook.com/DecathlonVyttila/photos/stay-healthystay-homehappy-world-health-day/1149758955356649/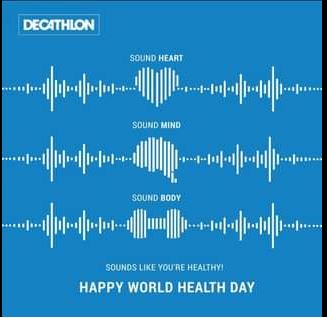 Now that's a creative that adventure seekers, fitness freaks and players will be happy to relate to.
Love this list? Give our team a shout out at aniketh@mindstorm.in.