One of the primary goals of digital marketing beyond brand awareness and growing your customer base is – driving commercial success, aka Sales. A sale is also called conversion, i.e., taking your business from a consideration set of brands to the final purchase destination. Magazine ad campaigns no longer share true numbers on impressions, reach, or conversions. With digital marketing, though, brands can track exactly how many people viewed the campaign through analytical tools and how many converted with the help of the landing page. Read more on how businesses use social media to generate leads. A good digital marketing agency in India often recommends building a landing page that delivers campaign performance. So, is the landing page a website? Yes and no. Let's understand what a landing page is and why it is important for your business.
What is a Landing Page?
A landing page is an individual page where visitors (leads) 'land', once they click a marketing campaign or an ad campaign. The campaign is usually led through display advertising, social media ads, or emails.
Think of a landing page likened to that precise section inside a hypermarket where the product on sale and its offers are available. Taking this example, the hypermarket is the internet. The danglers and promotions you see inside the hypermarket are the email, social media, and google campaigns a business would run. The dangler guides you to the aisle and the precise shelf of your business' product offering. Similarly, when you click on the campaign, it guides you to a separate webpage that may or may not be on your main website.
You click on 'SHOP NOW' in the advertisement on Facebook.
It takes you to a landing page – where the ad takes you to the 'Collections' page on the website.
Is the landing page a homepage of the website? No.
A homepage on the main website has many elements such as:
the main banner
a section on various collections within the brand
video panels
testimonials
blog section
social media section
footer
A visitor on the home page gets a holistic glimpse of the brand. The goal of the homepage is to showcase the vastness of the business and encourage visitors to explore various sections.
In contrast, the landing page has one goal only – to drive a Call to Action (CTA). A call to action is to sign up, subscribe, buy now, and watch now. Why just one goal? One goal ensures the landing page focuses on getting maximum conversions without distractions – no other product lines or blog sections.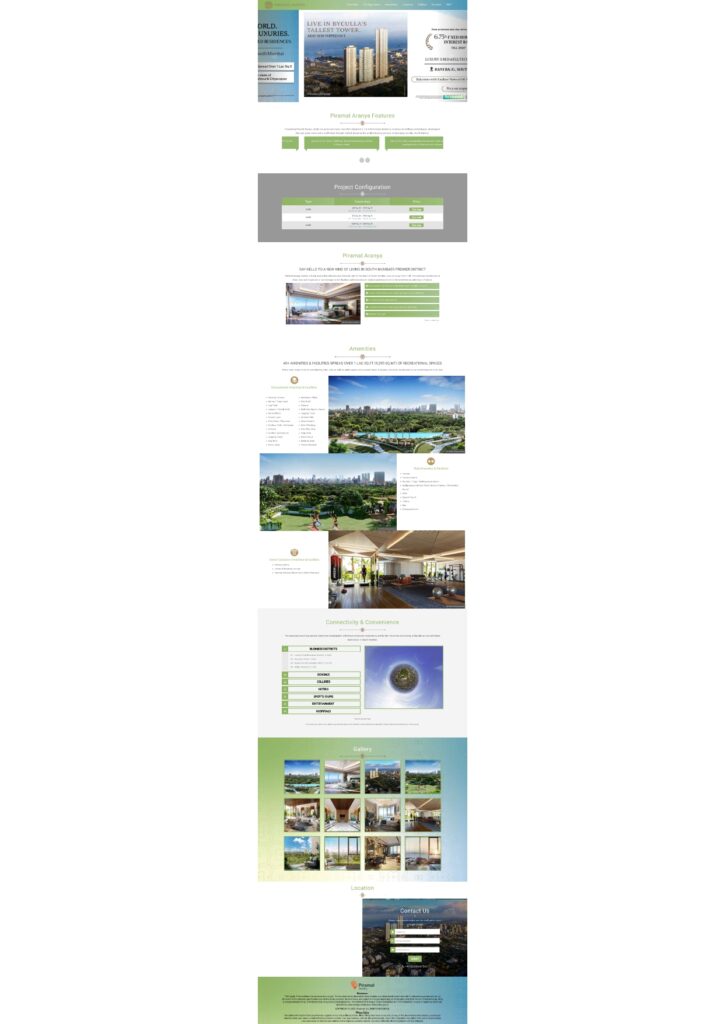 What is a good landing page? Which type of landing page impacts business?
A good landing page can communicate the business offering, reinforce the marketing campaign, and convert a qualified lead to a sale. Some businesses do not choose a sale as the final goal. The objective could be data collection – a lead generation campaign, direct visitors to watch a video, or engage them to sell a service or offer more details. Want to know how small businesses generate leads? Read lead generation campaigns for small businesses. What's a good conversion rate for a website? Conversion rates vary from 3% to 11.45%, depending on the industry and landing page quality. Businesses and brands need more than one landing page. Depending on the goals, which stage the customer is at, and the type of business. Let's understand some common types of landing pages and how to use landing pages for business.
One business can have several types of landing pages:
Click-Through Landing Page
The end goal of a click-through landing page is to convert a customer into a sale.
A good social media marketing agency will ensure your ads are retargeted or shown to the right set of audiences on social networks. Based on which stage of the marketing funnel the customer is at, they are redirected to the correct landing page.
E.g.: A customer making a repurchase gets directed to the final e-commerce sale page. The ad must give them an incentive like a discount and the landing page should focus on selling entirely without other distractions. However, for a first-time purchase or visitor, a customer needs more than a BUY NOW button on the click-through landing page. They need a catchy headline, social proof of buying, followed by a CTA.
Lead-Generation Landing Page
Not every ad campaign and business are persuasive enough on digital media to generate a sale. Not every business is chasing a sale online. This is where a lead-generation landing page comes in handy. The idea is to build a customer base with customer details and understand the target audience better to create effective ads or conduct follow-up sales calls. Businesses, in this case, offer a compelling call to action, like in the case below – Booking a FREE class in exchange for basic contact details.
Long-form Landing Page
Higher product value products or services require a strong sales pitch at multiple levels. Long-form landing pages encourage a customer to read more about the business and invest time with the product. These landing pages offer customers more time with the product details. The focus would shift from catchy headlines to creating compelling content around the product itself.
Take the example below. The ad focuses on a housing property in a particular location.
Once you click on it, the ad directs you to an individual long-form landing page dedicated exclusively to this property.
The business may have several properties listed on its main website, but this landing page solely talks about the amenities of said project, pictures of the property, available house sizes, and its location. As a leading digital marketing agency in India, we would design the landing page to have the CTA prominently – the I'm interested to sign up form – and earlier on the page, rather than at the bottom.
What are the benefits of landing pages for business?
Landing pages have one important function – to act as your digital salesperson after your customer has seen the ad. Imagine the functions of your salesperson – to provide product details, collect customer information, explain offer benefits of the product and give the customer a chance to buy, subscribe or sign up. The digital transformation of most businesses has made data a prerequisite to taking marketing and business decisions. Guesstimation of who the target audience is or where they're located doesn't cut it anymore. Landing pages drive value from your digital marketing campaigns by offering you real-time data of customers and a deeper understanding of your target audience.
Here are a few benefits of landing pages for the business.
Landing pages help achieve business goals
Define a business goal before designing a marketing campaign. What does your business want to achieve – increased subscriptions or consults, launch a new product, acquire a new target market? Businesses can design a landing page that works towards each of these objectives specifically.
Improve digital marketing campaigns with data using landing pages
Landing pages interconnect throughout the campaign because each page has a tracker. You can run multiple ad campaigns and direct them to the landing page.
Tools like Google Analytics Dashboard create a detailed map of where, when, and how customers visit the landing pages. This detailed insight helps improve marketing campaigns – understand ad campaigns performance, target markets performance or maybe gain insight into the influx and interest of a whole new target audience in your business. Marketers can then customize and tweak campaigns with this data.
Increased conversions and leads
A well-designed landing page has the power to influence the visitor to take action on the page. Imagine being guided to the exact product on this page; chances are high that the customer converts to a sale. Landing pages with different objectives drive better conversions – because they cater to each stage of the marketing funnel. It is an effective tool for data collection and lead generation. However, marketers must ensure the landing page design encourages customers to offer data willingly. Of course, with it comes the added advantage of building an email list or customer list that keeps the business connected through SMS, social media, emails, and more.
Build brand awareness and credibility
Landing page designs usually carry social proof such as testimonials or videos demonstrating product usage and success. This proof creates a sense of trust for your business and product with the visitors. Keep the landing pages in line with the brand colours of the website to create consistent branding. Thus, positively impacting the awareness of the brand. New customers that visit the landing page aren't aware of the main website or the business itself. A good landing page makes sure it maintains brand identity and offers visitors a chance and good reason to explore the business online.
The journey from generating good quality leads to final sales is tedious. However, digital marketing gives you access to each level of the sales funnels, easily. Landing pages make this customer a reality – from collecting data to conducting a sales pitch and finally converting them. Are your landing pages not working for you? Or are the bounce rates too high? Connect with our web and digital experts at aniketh@mindstorm.in and let our teams help improve conversions for your landing pages.