1. Amtrak
Amtrak is known to make train journeys comfortable and cozy. Nothing like dreaming of traveling and vacationing sleeping comfortably in a private Amtrak cabin. It gets even better when passengers talk about their amazing experience riding the train. Eric Elbe says, "The rocking motion on the train is so relaxing that it has helped me sleep soundly. And I'll continue to book sleeper"
2. Amazon Prime
did someone say #WorldSleepDay pic.twitter.com/LTZ9RLHVh6

— amazon prime video IN (@PrimeVideoIN) March 19, 2021
Prime very subtly uses their content to bring in world sleep day. While you know those 6 -8 of snooze time hours mean so much, we still land up binge watching, don't we? Here's Prime reminding you to sleep instead.
3. Bose
Happy #WorldSleepDay! We know how we're celebrating. Bose #Sleepbuds II have sleep technology that's clinically proven to help you drift off faster. https://t.co/WXnAAGXgmY pic.twitter.com/yq95JwsJ9s

— Bose (@Bose) March 19, 2021
When your product itself is all about sleep, how can you not be talking about it on World Sleep day! Bose presents its Sleep Buds to help you sleep easy and faster. Plug in and plug the world out.
4. Cherry Melon
The South African maternity wear brand celebrates World Sleep Day standing in solidarity with all the to- be mamas. Their creative take on sleep and the problems that come with it was absolutely unique too, considering that dogs too are light sleepers.
5. Guardian GNC
International specialty retailer of health and wellness products, Guardian GNC identified the perfect sleeping time. What's yours?
6. ICC- International Cricket Council
Sleep Cricket Heroes sleep! ICC brings you the other side of one of the world's most loved Sports – Cricket! From snoozes during practice and during the match to post match sleep shenanigans, ICC takes its fans behind the scenes on World Sleep Day.
7. KFC
https://www.facebook.com/KFCIndia/photos/a.145985925431977/3163462880350918/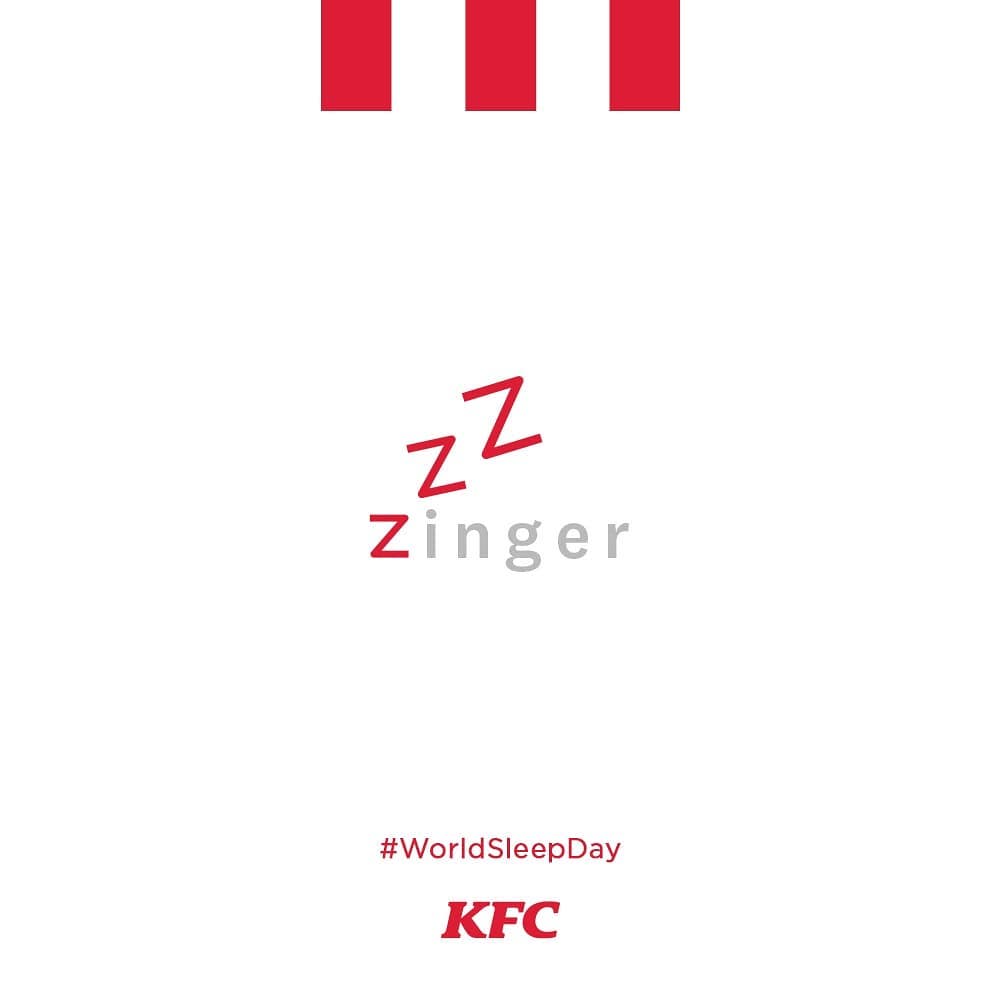 https://www.facebook.com/KFCIndia/photos/a.145985925431977/4239218076108721/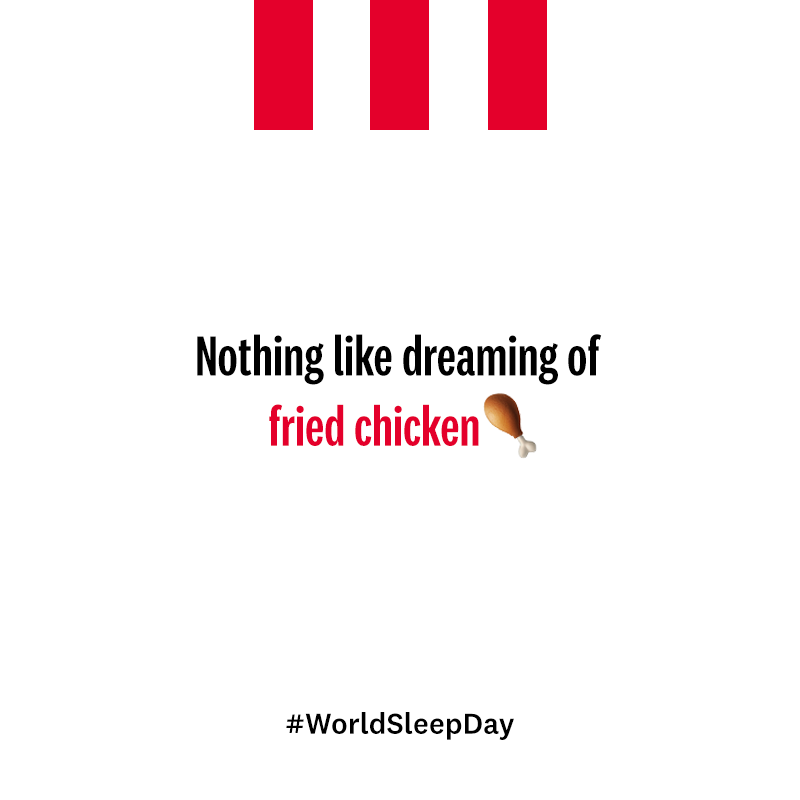 What can a brand that sells chicken talk about on #WorldSleepDay? Dreaming about chicken and getting some zzz's with the chicken! KFC brings a quirky touch to World Sleep Day with these creatives.
8. KALMS
Kalms wellness brand is popular for its product range that caters to relieving stress, anxiety and sleeplessness, globally. So, the brand gave its followers and fans a chance to win the Feather & Down Sleeping Bag Gift Set for World Sleep Day through a simple contest and giveaway.
9. Medlife PharmEasy
Not sure how to sleep better? MedLife PharmEasy gives you tips and tricks on World Sleep day to catch enough sleep and better sleep. From reducing blue light to exercise and sleeping techniques, check out how you can sleep better.
10. Mother Dairy
Mother Dairy knows what every mother tells their child – 'Drink a glass of warm milk to go to sleep' Love how they compare it with that nightly episode binge on TV and ask its followers to make the right choice. Don't forget your glass of milk tonight before you hit the bed!
11. Netflix
Like this post by tapping gently so you don't wake them up.#WorldSleepDay pic.twitter.com/phmJpopCId

— Netflix India (@NetflixIndia) March 19, 2021
A popular adage goes, Netflix's greatest competition is sleep, not another OTT platform. So, they brought us these beautiful sleepyhead movies and scenes to take some inspiration from and catch some snoozes.
12. National Geographic
Some animals need a full day of sleep in order to function—while others can thrive on just a few minutes of rest #WorldSleepDay pic.twitter.com/ppwT8alczH

— National Geographic (@NatGeo) March 20, 2021
Nat Geo sure knows how to tell you to sleep! Nature too needs its beauty sleep. This video by Nat Geo informed as well as asked its users whom do they share their sleeping patterns with!
13. Philips
In 2021 though, Philips partnered with influencer and comedian atul khatri to take teh #WorldSleepDay message in a more comical note. 47% of adults reporting relationship issues due to sleep apnea and about 8 of 10 Indians suffering from sleep apnea snoring loudly, sleep has become a serious issue. Atul Khatri adds a lighter note to it, sharing his experience through comedy.
14. Team Belgium
Everyone knows athletes have a strict routine – health, diet, exercise and sleep. The Belgium team brings together all its leading Olympics athletes to talk about their nighttime routine. Maybe it inspires you to sleep early and wake up early too?
15. WIX
Wix the website building platform collaborates with the brand 'Pillowdy' on World Sleep Day. Pillowdy uses Wix as its platform to create its website. So, Wix jumped on the opportunity to showcase the innovative travel pillow to its users and followers!