#YOLO #MondayMood #Gethealthy #foodcoma #travelgram #styleoftheday We use them practically everywhere now. What started as a tool to group information and topics on social media is now colloquial "#womanpower" as we converse on any platform. There is no denying that hashtags are a commonplace term used freely across platforms and design. And quite frankly it is brilliant to drive social media engagement using hashtags.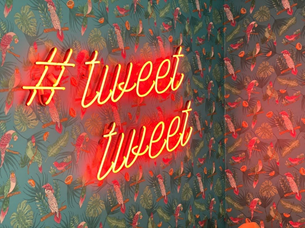 A trend that started on Twitter quickly expand to other social media platforms such as Facebook, Instagram and LinkedIn. While the initial use of hashtags to identify topics continues to do well, hashtags are also used to reach more audiences across social media platforms. Whether you want to run a social media contest on Instagram, create hype for an event on twitter or generate awareness on Facebook. Hashtags become an essential tool for your social media marketing campaigns.   How you use hashtags and incorporate them into your content strategy will determine your social media success. From getting more followers, to accessing audiences across a common interest and creating brand recall across all social media platforms, here's a quick guide on how to use hashtags for engagement in social media marketing.
How to incorporate hashtags in social media marketing strategy?
1. Identifying the right hashtags for your brand
Social Media marketing channels know how their followers use hashtags in their content, so you don't need to guess anymore. Each platform has evolved to offer brands and people relevant hashtags for content. And identifying the right hashtags for your brand can generate interesting online conversations, multiply your followers and quite often result in sale.
Let's say the content strategy revolves around a health drink. Type #fitnessgoals #stayingfit in the social media channels to see relevant hashtags and discussions people are having around it. Using these hashtags make the health drink discoverable on social media platforms and could possibly result in sales.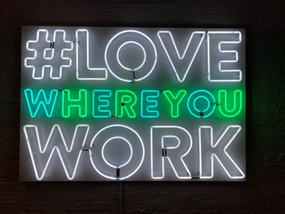 While most brands work towards identifying industry and topic related hashtags, identifying trending hashtags is another popular social media tactic to increase engagement.
However, use trending hashtags intelligently in the content strategy and language of your social media strategy. For e.g.:As a health drink brand, it works fantastic to create content and use hashtags related to the latest IPL cricket wins or EPL football matches.
 When used strategically into your content plan, trending hashtags take your brand page, posts and tweets to people beyond your follower base. While it is an excellent idea to use trending hashtags, it must add value to your social and online conversations. Otherwise, your efforts on that post is most likely lost in the thousands of posts using the #trendinghashtag.
2. Researching hashtags for better social media marketing reach
Like it works across marketing all good campaigns start with research. To get the most out of your hashtags, be it social media engagement or growing followers, a detailed research is a must.   Research the target audience across each platform and understand what and how they use hashtags for their tweets and posts. Research competitors from the same industry to identifying which hashtags work best for them. This would also give you an understanding into the competitors content strategy. Research hashtags relevant to the industry for your brand. Whether it is a travel company – #wanderlust – or B2B organization – #MondayMotivation- well-researched hashtags catch bring maximum brand exposure.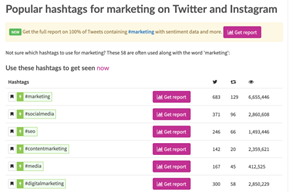 Several free and paid tools offer a quick analysis and performance of the hashtags pertaining to topics, brands, competitors and industries. Hootsuite, Hashtagify, Twitter Advanced Search, RiteTag. Use these tools to identify the right hashtags, track online conversation of hashtags, monitor and track performance of hashtags, identify influencers of various industries and more!
Also remember to check for the banned list of hashtags to avoid losing your content.
3. Customising the right hashtags to gain brand visibility
There is no one formula for the right hashtag to get more followers or increase shares. However, it is this aspect itself, that lets you customize and innovate with hashtags for your social media campaigns. We advise brands to create a template or list of hashtags such as the below:
Brand hashtag + Industry hashtag + Location Hashtag + Topic Hashtag + Trending / custom hashtag
Complicated hashtags are difficult to read, create poor recall and get ignored by the target audience. For better social media impact and reach, create hashtags that are clear, crisp and easy to remember / identify. This makes your audience want to use the same. Such as #instatech, #travelgram, #foodporn.
Customise your hashtags as per your social media content strategy. Adding a trending hashtag to content that is topical will not help reach the right audience. Similarly, adding relevant hashtags to your posts and tweets based on trends and content strategy enables people to find your brand page, content and engage with your brand.
4. Maintaining Hashtag Hygiene for content across platforms
Mis-spelled words and spaces in hashtags ruin a good campaign strategy, so ensure correct brand names and relevant spellings. Using plurals won't make a difference in search results, but preferably keep it singular wherever possible. Changing verbs in hashtags such as game vs gaming vs gamer can give varied results. A basic grammar check while deciding on your hashtag is an important hygiene factor.
Keep the hashtags simple with easy alphabetical characters, not too short or not too long. The number of hashtags that accompany your post also matter. A Social Media study on Instagram hashtag reach showed that an Instagram post with 11 hashtags received an average of 77.66 interactions and more than 2 hashtags on a tweet shows an engagement drop by an average of 17 percent on Twitter.
So as a rule, ensure you have anywhere between 1 -3 hashtags on your LinkedIn posts, Facebook and Instagram posts and tweets.
How to use hashtags on your brand page across on multiple social media marketing channels?
Few Common hashtags based on your social media marketing strategy across each platform drives excellent engagement and brand recall. Nevertheless, taking into account each platforms' restriction is vital before deploying a social media campaign. Let's look at how to use hashtags on Facebook, Twitter, Instagram and LinkedIn.
1. How to use hashtags on Facebook?
Facebook as a platform looked at hashtags more seriously only in 2013. Facebook users don't commonly use hashtags on their posts and even if they do, most users have private accounts making those posts inaccessible. Neither does Facebook place much importance to categorize trends, topics and groups based on hashtags.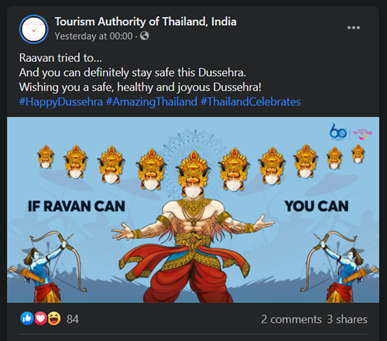 So, why not just drop hashtags for Facebook? Well that is not a great idea. There are Facebook users who browse hashtag feeds to look for brands or vendors selling products of their interest. This means a Facebook user would first see content from brand pages or influencers with large following on a hashtag feed and then posts from their friends.
Brands can look at using maximum of 3 and minimum of 1 hashtag on Facebook. Use a brand hashtag + custom hashtag + location or trend hashtag to stay in the relevant hashtag feeds of Facebook. Or to search for content, products and brands.
2. How to use hashtags on Twitter?
Twitter, the pioneers of hashtag. Every tweet when accompanied by the same hashtag gets grouped together and gets identified as a trend. This depends on the engagement such as clicks, favorites, re-tweets and replies. This means users simply click on hashtags to engage with topics and content of their interest. One of the top reasons people use Twitter is to stay updated with the current news globally. It is a platform that is alive with breaking news through the day!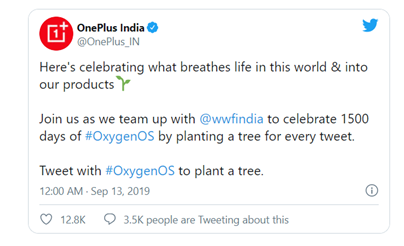 Since, Twitter uses hashtags to categorize online conversations and group topic discussions, it makes hashtags – for tweets by brands – even more important. Twitter's hashtag research shares that using one or more hashtags with Tweets increases engagement by almost 100% for individuals and 50 % for brands. With the right hashtags and strategies trending on Twitter is easy!
The 280-character restrictions mean using hashtags wisely and contextually. 2 hashtags per tweet works well to drive engagement for brands. Hashtags on Twitter drive most engagement for launch events, globally trending topics, brand campaigns and social awareness campaigns. Use a campaign / event hashtag + custom hashtag or trend hashtag depending on the content strategy for Twitter.
3. How to use hashtags on Instagram?
Instagram and hashtags go hand in hand. Hashtags – used widely on Instagram – pushed the platform to offer users the option to follow hashtags in addition to following brands and influencers. As a platform Instagram is diverse for content creation – Posts, stories, IGTV and Reels. And using hashtags tactfully in each section offers great opportunity for brands to engage with their customers.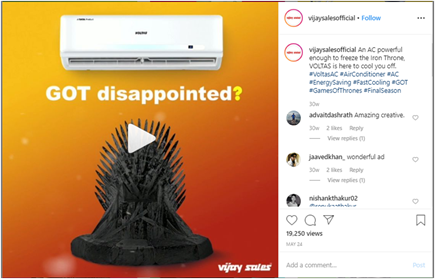 While Instagram hashtags can go up to 30, but most studies suggest keeping it between 10 – 11 hashtags. Avoid using hashtags that have nothing to do with the post or industry, that can potentially drive down engagement. Longer hashtags on Instagram seem to be getting better engagement on posts and stories. There is no significant difference between posting hashtags in the post copy or in the comments section. Brands prefer to keep hashtags in the post copy itself, while many influencers opt for longer post copies with hashtags in the comments.
Run contests on Instagram with interesting hashtags and find all the participants and their conversations in one place! Use topical and trending hashtags on brand stories to feature in trends and get picked up on the Instagram conversations. Such as #StayatHome or #WorkfromHome. Hashtags on posts enables brand content to feature in the hashtag browse feed, which in return features in the user feed following those hashtags. For e.g.: A person interested in getting physically fit, probably follows #betterhealth or #healthydiet. These hashtags used by a health drink brand will ensure that its posts feature in the user feed.
4. How to use hashtags on LinkedIn?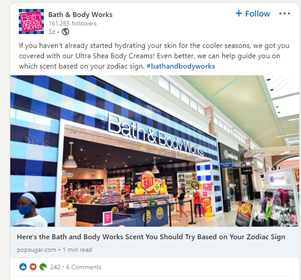 LinkedIn's perception as a B2B marketer's arena is now gradually shifting. Increasing number of users add hashtags on LinkedIn posts as well as their blogs. And it works great to connect with users outside the network. Brands using the right hashtags on LinkedIn Posts typically see wide reach of their content.
Again, LinkedIn does not issue any restrictions on the number of hashtags, but marks posts with more than 5 hashtags as spam. So, use hashtags inside articles and blogs but space them out adequately. Using hashtags in the brand profile is another intelligent way to weave in relevant hashtags. A sound LinkedIn strategy will involve commenting and replies, use brand hashtags and topical hashtag within comments for better exposure on the platform.
Hashtags are not only about brand awareness, followers and social shares. Hashtags are a powerful tool that enables brands, organizations, people and ideas to magnify reach and trend on various platforms. Before you start building deploying content strategies on each social media marketing channel, understand how to use hashtags for engagement effectively. Using the right hashtags in the most relevant manner helps brands stand out amongst the clutter.  Need help with setting up the right hashtags? Drop us a #Hello on – aniketh@mindstorm.in.