Normally when the population of a species thickens, it either results in a lack of food resources or a disease ends up wiping out the species entirely. But human beings have managed to overpopulate the planet successfully, due to obvious reasons – like advances in medicine and our ability to never run out of food. Overdoing something is rarely accompanied without side effects. In the case of our population a major side effect has been our impact on the environment.
What would the world's population be by the year 2050? Could our resources ever be depleted? Do you realize that if every human being lived till the age of 30, there would be just half the population on the planet? It is thoughts like these that help brands come up with great ideas. Creative World Population Day ads are needed to make people aware of the problems our world is facing today and the challenges we humans will be facing in the long run.
Advertising World Population Day creative ads – Are not only good but a responsibility towards humanity. As a brand or a digital marketing agency you can do your part by creating a message about the importance of family planning, poverty, gender equality, human rights and how they impact your country's population.
Creative World Population Day Ads – World Population Day is celebrated on the 11th of July. Explore these ideas to think up a great one for your brand to display on social media.
1. Freedorentals & Thermocool
Not just car rental companies, any brand that has something to do with speed or degrees can take a hint from this meter idea for their next campaign. Thermocool is a home appliances brand that managed to use this idea very smartly.
2. Veggie Reggie, Fagun & Monginis
On this World Population Day, take a pledge to stop wasting the food.#WorldPopulationDay #PopulationDay #Foodie #Indore pic.twitter.com/ygKKkIBBV0

— Fagun Restaurant (@FagunRestaurant) July 11, 2017
You don't have to be a vegan restaurant to share a great post for World Population Day. Any restaurant in general can come up with an original thought that involves not wasting food or feeding the hungry in their social posts too. Take the support of a social media marketing agency if you need it. What is important for your brand and your fans is to show you care.
3. Nippo
Nippo batteries created an electric post on World Population Day talking about energy conservation. Let's just say they used their powers wisely!
4. Reliance General Insurance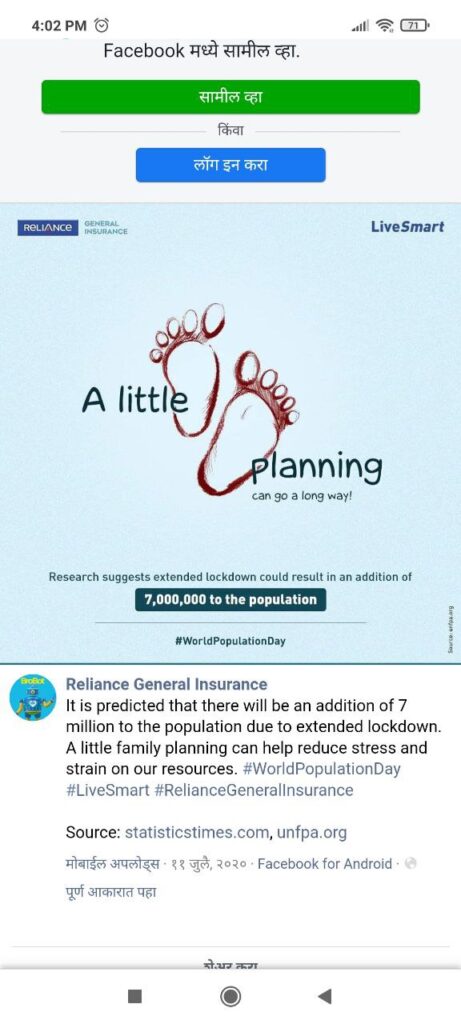 Finding a fact that could connect your brand to World Population Day is also a great way to go about it. Reliance played smart in 2020 and stayed in the moment by communicating the fact that planning life is as important as planning finances, especially during the lockdown. The fact backs up their idea in a great way.
Also Read: Top Campaigns For World Cancer Day
4. Kotak
If you can sell your product along with putting your message through, nothing like it! Property ads are always thumb-stopping for their audience. Hats off to Kotak for cleverly propagating the concept of a nuclear family on World Population Day.
Also Read: Top Father's Day Campaigns by Brands
5. Beardo
Channeling the thoughts of a population, towards your brand, on a day like this, is hard work. Looks like Beardo really stroked their beards for this one. Lesson learnt – Scratch your head, put your heads together, pull your ears, rack your brains and go crazy but don't forget your brand in the messaging, on special days like this one.
6. The Golden Tusk
Your brand can talk about the impact of population on wildlife as well. Tourism companies, national parks and zoos, education institutions, museums and so many others can take this route.
8. Bonton Holidays
Celebrating the spirit of travel on world population day seems odd, but still makes total sense. Travel is expensive in some countries. Which is why it becomes easier to go on a trip when you have a smaller family, thus favoring the thought about population control.
9. Flipkart & Engineer's Circle
It's getting a little too crowded for everyone. We need to give this some thought before it's too late. #WorldPopulationDay pic.twitter.com/uBCvhucyny

— Flipkart (@Flipkart) July 11, 2018
The earth has become heavier due to the heavy population. Brands have found various ways to depict this idea. You can too!
10. Manforce & Durex
For the right growth.#WorldPopulationDay #ManforceCondoms #populationday2019 #populationcontrol pic.twitter.com/rhsgzegtcp

— Manforce Condoms (@ManforceIndia) July 11, 2019
#WorldPopulationDay.
Buy now: https://t.co/VAfOu2z972 pic.twitter.com/vlvspyINLp

— Durex India (@DurexIndia) July 11, 2018
Even though 'population' is such a huge global issue, there is no reason why you cannot communicate the right message with humor.
If you loved this list give us a shout out at aniketh@mindstorm.in.
Visit us at www.mindstorm.in
Happy World Population Day!