Mindstorm digital marketing experts answer the vital question – how do you use interactive marketing to engage the audience? – that drives interactions and conversations.
Social media marketing is all about connecting and interacting. When brands choose to have a social media presence, often driving brand awareness and engagement are two key objectives. But what do you do when consumers today have shorter attention spans? A Microsoft Corp study shows that human concentration is at about eight seconds. Multiple social networks, ads, more brands, entertainment – the competition is high! How to get your audience engaged – is a common question our social media marketing team in Mumbai encounters. While there are tons of suggestions we offer clients, one element that we highlight is content marketing. As a digital advertising agency in India, our teams use interactive tools on social media with content marketing to drive consumer engagement. Still wondering how do you use interactive marketing? Let's get into some details.
What is Social Media Engagement?
Social media engagement is when your audience – your followers – talk back to you. They like or share your posts or videos, reply in the comments, retweet, tag other people to follow you, and more. The goal of social media is to interact, where there is a two-way communication. The more people interact with your videos, posts, tweets, articles – the more the social media network will showcase your brand to a larger audience.
How do you measure social media engagement?
Here are some metrics to measure social media engagement:
Likes
Comments
Shares or retweets
Save to Collection
Growing Followers
Tags from followers
Click-throughs
Popularity of branded hashtags
Why then, would your audience interact with your posts, tweets or videos? Because your brand produces stellar content that motivates your audience to interact with the brand and hold authentic conversations. The more interactive, value-driven and original your content is, the higher are its chances of reaching more people. Here are Top 10 Compelling Content Marketing Case Studies to give you an idea on what drives interactions and engagement.
How do you use interactive marketing?
Social networks offer brands and individuals multiple tools to engage and interact with audiences. A social media marketing strategy needs to have a healthy mix of original content such as statics, reels and interactive content ideas. Let's look at 4 easy tools on how to get your audience engaged.
#1 Using Posts – an interactive marketing tool
Brand posts are inevitable. These posts may have different communication objectives such as – awareness, education, information. This is where your content strategy plays a vital role. A regular static post can also drive interaction and engagement. It depends largely on what the brand is posting. Like this LinkedIn post that talks about women's roles. It engages the audience and compels them to comment and/or share the post too.
https://www.linkedin.com/posts/thefemalelead_my-5-8-year-old-daughters-watched-hidden-activity-6911779886835621888-yqXY?utm_source=linkedin_share&utm_medium=member_desktop_web
However, you can also create posts that specifically target interaction with your audience. What posts do you ask? Posts that are contests, GIFs, question-based posts help brands integrate more than one digital asset to generate customer interaction.
This contest collaboration between Zomato and Natural ice-creams works well as a summer giveaway. While interactions are growing, so is the brand recognition and awareness. Maybe leverage your DM interactions to create a fun post?
Something even as a simple puzzle can help engage audiences like this post from Vijay Sales.
LinkedIn offers brands and individuals a poll tool on the post itself. Create interesting polls that get people to vote and interact with your brand.
https://www.linkedin.com/posts/qualtrics_activity-6912044180504530944-H48g?utm_source=linkedin_share&utm_medium=member_desktop_web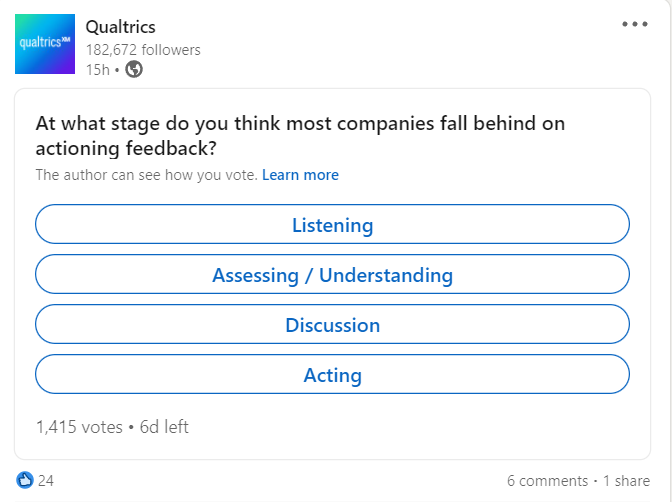 #2 Using Stories – an interactive marketing tool
Instagram has popularized stories among its users and the same goes for Facebook too! Polls, ratings, and quiz stickers on Instagram and Facebook have become a popular tool for engagement. Does that mean your audience definitely engages? Maybe not. A lot depends on what kind of questions you are asking. Are they relevant enough for participation?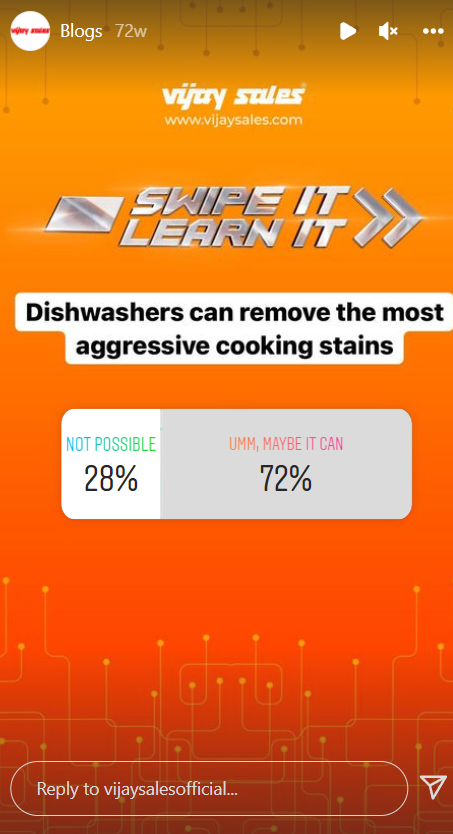 Polls are a great way to educate your audience too. Ask a question about your brand and ask users to share their responses.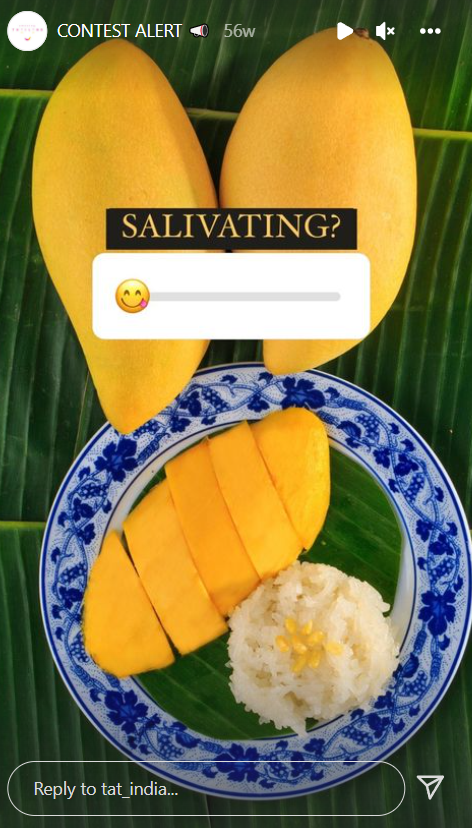 Showcase a product to get a review and rating. Or simply ask open ended questions to understand what your audience wants to talk about or the kind of content they would like to see.
Another interesting way to interact with your customers are the filters, audio tracks that users add on stories, reels and posts. Check out how the Instagram Face Filter Tab: Strategic Digital Marketing helps brands drive engagement.
#3 Going Live – an interactive marketing tool
Instagram, Facebook and YouTube are social media networks that enable you to go LIVE and broadcast a whole stream from your location. Consumers want to know more about a brand. They are seeking information and are more than happy to find an actual person replying to the queries. Alternatively, brands can also go LIVE with events, shows and more.
Here is the One Plus launch event that went LIVE on Feb 24. The brand announced its experience center at the event. The brand takes audiences into the store for a LIVE streamed virtual tour on YouTube.
CEO Mark Zuckerberg explains – anyone with a phone now has the power to broadcast to anyone in the world. When you interact live, you feel connected in a more personal way. This is a big shift in how we communicate, and it creates new opportunities for people to come together.The pandemic in 2020 saw LIVE video usage on Instagram jump by 70% fuelled by brands, influencers, celebrities and more. Consumers considered Live video as an outlet because lockdown wouldn't offer them a chance to shop with their favorite brands. It also gave brands an opportunity to connect with audiences and understand expectations, preferences and more.
Tanishq takes its audiences behind the scenes of its new cocktail jewellery collection. The session is interactive, where users can ask questions during the LIVE session, chat Live and even feature in the LIVE video.
Live Q&A sessions are excellent conversation starters around your brand. Host LIVE sessions with an internal team to take audiences behind the scenes. Invite a celebrity, influencer or thought leader related to your brand and organize a Live session with prospective and existing consumers.
#4 User Generated Content (UGC)– an interactive marketing tool
UGC is a socially engaging content that directly depicts how your consumers perceive your brand and its products or services. This is content created by users, actual owners of the product or consumers of the service. Consumers find innovative ways to showcase, recommend and share your products with the world.
Take for example cornflakes. Typically, a breakfast cereal, but users also use it as a patty coating or cook it differently. Users share recipes using this product or brand of cornflakes digitally. This just added more utility to a product otherwise stuck in a niche and that too from a consumer.
UGC content is powerful, because consumers trust other people and their experiences with a brand. It is a digital word of mouth about your product and brand across multiple networks. One user review can generate brand recognition among not just immediate social circles, but across thousands of other people that follow them. Sharing these content pieces is essential for your brand.
Starbucks takes UDC content seriously and posts them in stories as posts and the interaction is incredible. Pay close attention to the comment section where users share their stories too. This is what social media is all about, driving engagement and interaction.
Digital consumers show their appreciation for a brand by sharing pictures, posts and mentioning (tagging) the brand in them. These posts should be then reshared or reposted by the brand to add authenticity to the brand promise and drive more interactions.
To Conclude…
We hope these 4 easy ways on how to get your audience engaged helps your brand start the efforts on driving consumer conversations. In a highly competitive digital environment with short attention spans, multiple platform competition and saturated markets, consumer engagement is a must. It is these digital interactions that will keep your brand relevant in the minds of the consumer and build brand loyalty.