The World of Marketing is changing every hour! Trends, technologies, and consumer needs are constantly evolving. Staying relevant in such times is extremely important. And what better way to do that, than a super-strong content marketing strategy!
Content Marketing is not just confined to building trust, awareness, or engagement. Today it has become the new normal of the marketing world. Software companies have now positioned themselves as tech-educators through blogs, how-to videos, and informational guides. While global tech giants like Google have come up with free courses and certifications to educate their audiences in various domains from Digital Marketing to Artificial Intelligence. Such content is a great way to remain relevant, inform target audiences and convert potential customers into loyal ones.
With the help of engaging Content Marketing Strategies, brands can highlight their business's key services, strengths, USPs and drive brand utility in the daily lives of their customers.
"Content marketing is a strategic marketing approach focused on creating and distributing valuable, relevant, and consistent content to attract and retain a clearly-defined audience — and, ultimately, to drive profitable customer action."

Content Marketing Institute
It means qualitative, consistent, and relevant content drives the purchase decisions of the consumers and helps brands generate leads. Content can be generated in various formats such as blogs, newsletters, surveys, tool-reviews, e-books, quizzes, videos, giveaways, podcasts, or user-generated content.
Why Content Marketing is Important?
Here are the top three reasons why you should consider content marketing over any other marketing channel.
1) For Building Trust and Brand Reputation

When consumers read about your brand, they tend to develop an opinion about you. If the content provided is valuable, educational, and engaging, consumers are more likely to invest in your products or services. Therefore articles or blog posts build trust and a good reputation for your brand in eyes of targeted audiences.
2) Helps Generate leads and Influencing Conversion Rates
YES! content marketing is effective in generating leads too and also works well in improving website conversion rates. Improved conversion rates lead to a higher probability of increased sales.
"According to 74% of companies surveyed, content marketing has increased their marketing leads, both in quantity and quality. "(Curata)
"Content marketing provides conversion rates about 6 times higher than other digital marketing methods."(ABG Essentials)
3) Cost-Effectiveness

If you aren't already helping your brand with content marketing, it is high time that your brand starts. Invest time and money into content marketing to see cost-effective and better ROI on your marketing efforts.
How about we take a look at some successful Content Marketing Case Studies to draw some inspiration. These Content Marketing Case studies will help you analyze the effectiveness of the strategy applied and help create better plans. Need help planning Content Marketing strategies, feel free to connect with us at ANIKETH@MINDSTORM.IN.
Content Marketing Case Studies
1) Company: Superdrug
Superdrug is a health and beauty products retail company based in the UK. It offers a range of products from fragrances, makeup, skincare, toiletries to hair care products and much more.
Objective:
The campaign was designed around this one question. – "How do perceptions of beauty vary across the globe?"
Understanding unrealistic beauty standards and body image roles in different countries.
Raising awareness on the issue of body imaging and acknowledging people being held as victims of such issues.
The Strategy:
Superdrug started a campaign named, "PERCEPTIONS OF PERFECTION". As part of the campaign strategy, a woman's image was sent to 18 female graphic designers across different countries. Superdrug asked them to photoshop the image to look attractive to the people of their country. Later, Superdrug created a visual asset compiling the different versions of the original image produced by graphic designers from 18 countries.
You can check the compilation here- Perceptions of Perfection | Superdrug™
The Results:
The campaign gained international appreciation and was picked up by 600 publishers including Buzzfeed, Huffington Post, CNN, New York Times, and many more placements.
Nearly 1,000,000 social shares.
More than 700,000 page views on Superdrug's website.
238% increase in organic traffic search over 16 months period.
Mentioned by celebrities like Sofia Vergara and Lil Wayne.
Key Takeaway:
Producing emotionally appealing content is one of the best ways to connect and encourage engagement with your customers.
Customers feel that you empathize with them and understand their dynamic perceptions.
Moreover, it puts your brand in the limelight for being relevant, acknowledging the challenges faced by customers and helps create better relationships.
2) Company: Capgemini
Capgemini is a global consulting, technology services, and digital transformation company based in France, offering worldwide enterprise services.
Challenge- Building Brand Awareness and Reputation Management.
Despite being capable and working with the world's top brands including KPMG, Deloitte, and Accenture, the company was falling behind its competitors. They invested large sums of money in paid advertising, appointed professional golfers for branding, and yet faced slow revenue growth with no ROI.
Objective:
Attracting new visitors to the website.
Building Brand awareness.
Providing knowledge and tech-driven solutions to the target audience.
The Strategy:
The brand created a content marketing strategy plan that revolves around engagement. They converted website content into a storytelling format that would inform and answer the target audience's questions on the topics like cloud technologies, AI intelligence, Big data, etc… The brand acknowledged the challenges faced by the enterprises and provided them with solutions through their website content. They framed a series of stories, blogs, and informational pieces for their website, educating their audiences about the need for technology driven solutions.
Source- marketinginsidergroup.com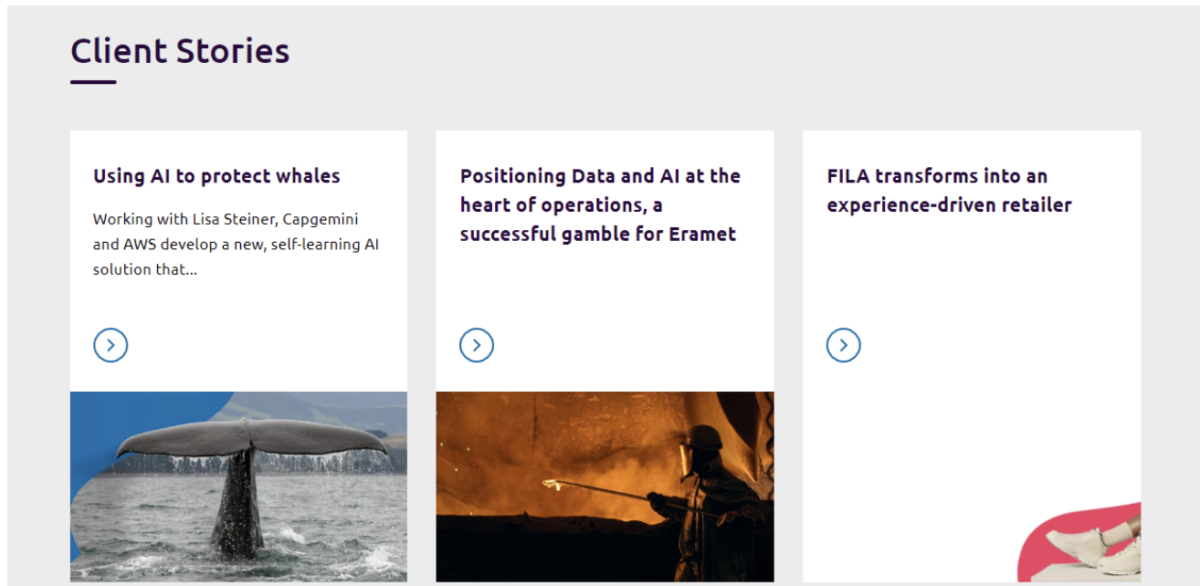 The Results:
In one year's duration, Capgemini accomplished the goal of attracting 1 million new visitors.
Attracted 100,000 new followers for LinkedIn page.
1.8 million shares of the content.
The strategy was responsible for generating nearly $1 million in sales and $5 million in its second year. And is today generating around $20 million in sales a year.
Key Takeaway:
Information and Problem Solving is the key to attract your customers when talking about new technologies and advancements.
Big budget advertisements may not be fruitful if targeted audiences are not well-informed about the product/company.
Tech brands and service brands can easily crowdsource informational blogs and articles, share client's stories, make how-to-videos or create informational e-books. This kind of content becomes more reliable and drives more engagement.
3) Company: Mercedes Benz
The company needs no introduction. Mercedes-Benz is a German- automotive leader, known for producing luxury vehicles and commercial vehicles.
Objective:
Targeting the younger generation and enhancing brand awareness across social media handles.
Generating social media impressions for the new launch- Mercedes CLA.
The Strategy:
Mercedes Benz wanted to reach out to younger audiences. Their strategy concentrated on user-generated content encouraging engagement with the brand.
Mercedes Benz collaborated with five Instagram photographers and asked them to take photographs of the all-new Mercedes CLA under the "Take the Wheel" challenge. The best part of the campaign was, whosoever gets the maximum likes keeps the car. And hence all five of them worked hard and in turn Mercedes generated some stunning visual assets for their social media handle with the worldwide popularity of the campaign.
Check out the video!
The Results:
87,000,000 organic Instagram impressions
2,000,000 Instagram likes
150 new marketing assets (stunning photos)
Key Takeaway:
The campaign highlights the importance of choosing the right type of platform and social media influencers for your targeted audiences.
Drive more from your contests and generate as much content out of it as possible.
And in turn, your brand can generate qualitative and quantitative marketing assets that will keep attracting attention from your target audiences.
4) Company: Colgate Palmolive
Colgate Palmolive is an American global brand with a history of more than 200 years. The product range includes household, healthcare, personal care, and veterinary products.
Objective:
Enhance brand awareness and boost online sales of Palmolive Gift sets.
Better Engagement through interactive gamification content.
The Strategy:
Colgate used an interactive content strategy for boosting sales of its Palmolive gift sets during one of its Christmas campaigns. Colgate launched Bubble-popping gamified content combining it with Augmented Reality to engage its customers. To play, users had to present proof of their purchase and then a landing page would lead them to a game. As part of the game, the player has to pop the bubble with his/her nose in the bath like setting.
Source- contentmarketinginstitute.com
The Result:
Attracted over 1 million participants within two weeks through Facebook.
10,000+ participants landed on the retailer's website to shop online.
Key Takeaway:
Creative content marketing takes your brand ahead in an overcrowded marketplace. Try the many interactive content marketing formats like games, AR and VR applications, quizzes, and more that are available today.
According to Think with Google, "People today have 2X more interactions with brands on mobile than anywhere else." The statement justifies the increase in the importance of mobile-friendly content marketing strategies.
5) Company: SEMrush
SEMrush is a leading competitive research toolkit company that offers its services in PPC, content marketing, SEO, analytics, social media, and a wide range of digital marketing related services.
Objective:
To educate the audiences about the new feature launch.
Product awareness and engagement.
The Strategy:
SEMrush designed an interactive game that educated its target audience about the new additional features on SEMrush's toolkit. The game was named; "SEMrush Easter Egg Hunt Game ", it involved the completion of a set of actions within SEMrush's tool to find 15 easter eggs. And later on, people shared their accomplishments through Twitter.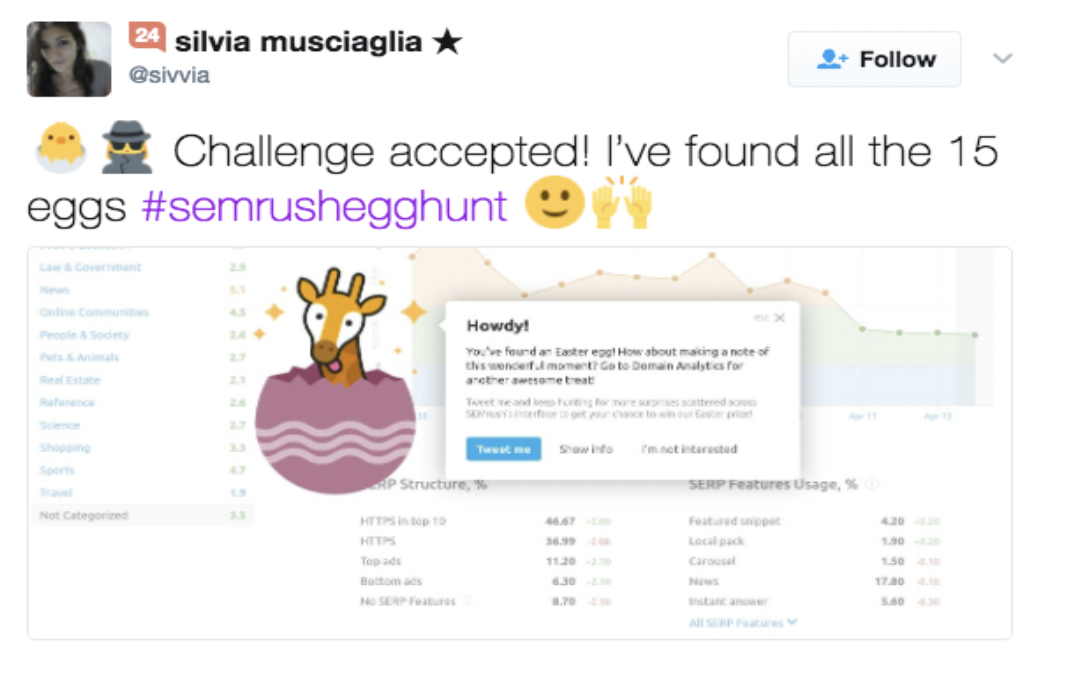 Check out the Challenge video here; Virtual SEMrush Egg Hunt Tour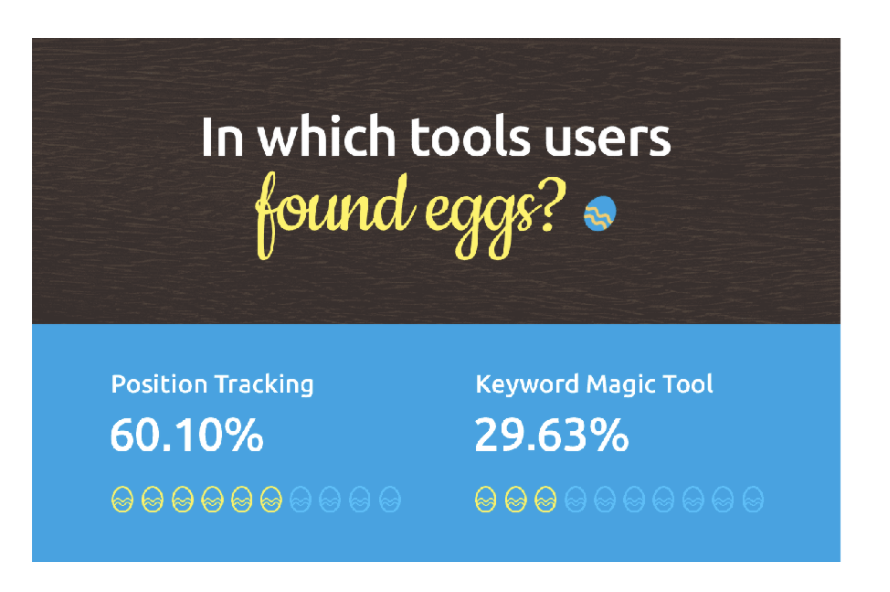 You can check out more information here- SEMrush Easter Egg Hunt: All the secrets revealed!
The Result:
Attracted more than 9,300 participants.
Generated 8 million Twitter impressions.
Key Takeaway:
Adding advanced features to your products is easy; educating your targeted audiences about them is tough. Therefore, planning a content marketing strategy for educating your audiences becomes inevitable.
Invest in gamified content for brand education. It helps drive brand messages more effectively, attracts more customer eyeballs, and in turn informs them about your offerings.
6) Company: Swiggy
Swiggy is India's leading, tech-driven, on-demand food delivery platform. It brings food from neighborhood restaurants, cafes and eateries directly to your doorstep. It has appointed delivery partners all over India to deliver food through an app-based system.
Objective:
Positioning Swiggy as a compelling choice for delivery partners and encouraging potential delivery partners.
Engaging its delivery partners and encouraging them to showcase their creative side.
A second income generating source for Swiggy's delivery partners.
The Strategy:
Swiggy Starhunt, the campaign launched by Swiggy acknowledging its delivery partners' effort. The campaign let it's delivery partners take a break from their daily work and showcase their talent through Tiktok. (though it has been banned in India now, there are various applications in the market to replace it.)
Swiggy launched four teaser videos to attract customers, which gained remarkable views.
The Star Hunt Challenge included categories like; dancing, singing, musical instrument, and acting. The winners were promised exciting prizes and holiday packages.
Swiggy used 11 vernacular languages to promote the challenge across pan-India audiences. And collaborated with Tiktok influencers to increase the reach of the challenge.
The Results:
Through Tik Tok influencers, Swiggy garnered an organic reach of 57 Lakhs.
350+ delivery partners participated in the challenge.
1500+ videos were uploaded on Tiktok.
44M+ views on Tik Tok #SwiggyStarHunt.
Key Takeaway-
Producing video content is exciting and an awesome tool to tell stories about your product.
Cisco projected that more than 80% of all Internet traffic will be video by 2021—which means brands definitely need a video content strategy. (Cisco)
Moreover, 87% of consumers want more videos from brands. (Hubspot). As a brand, you must not overlook the efficiency of rising video platforms like Instagram reels, You Tube Shorts, or Vimeo.
7) Company: MIVI
MIVI is a homegrown Indian electronics manufacturer company. Its product range includes; headphones, ear pods, speakers, charger cables, and adapters.
Objective:
Product Awareness for new MIVI Duopods M80.
Product launch and engagement.
The Strategy:
MIVI made exceptional use of the Instagram platform by launching a story game. The game revolved around completing a mission by carrying all new MIVI Duopods to the safe house. The game was Insta story-based, where players have to tap on the right option that would lead them to the safe house. After completing the mission, users can fill in their information and receive exciting offers, and stand a chance to win MIVI Duopods M80.
MIVI reached out to various social media influencers like Bhuvan Bam, Mostlysane, Carry Minati, and Mumbaikar Nikhil. They shared the game on their social media handles and encouraged audiences to take up the mission.
Source- nextbigbrand.in
The Results:
More than 3 lakh people played the game in a span of 24 hours.
Gained massive social media shares.
Key Takeaway:
Interactive content is what drives brand engagement today. Craft interactive content strategies to see your users have fun with the brand.
Interactive content allows audiences to actively participate rather than passively read, watch or listen to ads.
It also enhances the customer experience. The better the customer experience is, the higher are the chances for increased conversion rates.
8) Company: Blendtec
Blendtec is a US-based blender company manufacturing blenders for commercial and residential purposes. It guarantees to offer the safest, highest quality, and speedy blending services.
Objective:
To position Blendtec's blenders as the world's most efficient blenders.
The Strategy:
Their strategy has been the same for more than a decade. Engaging audiences by blending anything. It includes iPhones, keys, sketch pens, remotes, marbles, or literally anything. The brand keeps posting "Will it blend?" Youtube videos and has been successfully creating viral content for around 13 years.
Check out Will it blend? Videos here!
The Results:
700% increase in sales in recent years.
More than 850k subscribers on the Youtube channel.
Key Takeaway:
Make your product your hero in your content marketing strategy. And drive the content around it. Get your audiences hooked to your content and create a permanent brand recall for your product in the mind of the audiences.
9) Company: Airbnb
Airbnb is an American vacation rental company that connects people with places, stays, and hosts through a website and app system.
Objective:
Increasing organic reach through content that satisfies all travel needs.
Encouraging engagement, and awareness about the Neighborhood Guides provided by Airbnb.
The Strategy:
As part of the content creation strategy, they designed a Neighborhood guide for travelers that would help them decide where to stay, what experiences they will gain, and what places their neighborhood would have. The Neighbourhood guide was published on their website and mobile application, which still gets updates from time-to-time by their registered hosts. The guide gives recommendations about food, stays, nearby destinations. A complete guide for every type of traveler!
You can check their intriguing Neighbourhood Guide here!
The Results:
10,000+ estimated monthly organic traffic.
100+ referring domains.
Key Takeaway:
Customize content production focusing on the specific needs of your consumers. This will help your brand increase its credibility and engagement.
78% of CMOs believe custom content is the future of marketing. (DemandMetric) Brands should focus on investing resources in understanding consumer needs and adopting personalized content practices like the website content designed by Airbnb.
10) Company: Lenovo
Lenovo is a Chinese multinational technology company offering its products including laptops, ultrabooks, tablets, and other technological devices.
Objective:
To guide customers through the content marketing funnel. Firstly by building awareness about the brand, educating about products, and then converting them into customers.
Influencing and educating buyer's about the technology and helping them with purchase decisions.
The Strategy:
Lenovo created a digital content hub called Tech Revolution. It focused on informing people in the Asia Pacific region about new technologies, trends, and their usages. They built an online website, https://www.techrevolution.asia where they shared stories and informational articles educating their audiences about the products available. Lenovo also collaborated with IT professionals to create informational guides about the continuous evolution of technology.
Checkout Frizbee's video they created as part of the Tech Revolution!
The Results:
500+ articles with 34 million impressions.
250k+ link clicks
60k+ social engagements.
100k+ new visitors.
Key Takeaway:
Consumers want to know if they are dealing with the experts in the field. And the best way to assure your audiences is by providing educational content.
Educational Content helps your customers make informed purchase decisions and in return builds your brand's credibility.
Digital customers love sharing their reviews and opinions. User-generated information further helps your brand cut costs and gain consumer trust.
Consumers are more likely to trust testimonials, expert advice, or other informational guides stating the value of your products.
Plan your Content Strategy and generate Conversions!
These are some of the most compelling content marketing strategies by brands across the globe. From emotional appeal to engaging content marketing plans, these are some of the brands that have successfully leveraged the power of Content Marketing. And continue to generate results by creating qualitative, interactive, and relevant content.
If you are a brand looking for digital marketing agency in Mumbai whose offer content marketing services, reach out to us at ANIKETH@MINDSTORM.IN. And we will help you create awesome content strategies that convert. Cheers!