Instagram has 1 billion monthly active users and 90% of people on Instagram follow a business Instagram page. How does a business create a first impression in the first 3 seconds of a user visiting their profile and page? It is a good digital strategy for every business to have a presence on the platform, but you also need to optimize Instagram for business. Instagram is constantly evolving to create better user experiences. Businesses must be on top of their game with their Instagram profile optimization and Instagram page optimization to stay relevant.
What do we mean by "Optimize Instagram for business"?
It means making your Instagram business page more sales-worthy with content that will convert. It also means optimizing your Instagram profile to give a quick insight into your business that encourages users to follow you. The goal with Instagram for a business would always be to reach more target audiences, engage with the audience, and convert the audience into a sale.
Instagram is a visual medium, unlike Quora or Twitter, which is more text-based, needs good content. The platform offers businesses more than one medium to create awesome content around their products and brands. Such as Reels. Instagram has made it clear it is doubling down on reels and video content. Businesses can leverage this for Instagram page optimization. Check out our guide to using Instagram reels in your marketing plan.
While you invest efforts in creating good content, building a good Instagram profile matters a lot too. Especially if you want more followers and want them to connect with you. Learn how to grow Instagram followers. Instagram profile optimization means re-assessing your profile bio, picture, and CTA now and then.
Here are 5 easy ways to optimize Instagram for business
1. Choose a business account and build it well
An Instagram business account changes how you use Instagram versus a personal account. It unlocks features like call-to-action buttons that enable customers to contact your business easily. A business account gives you access to the world of Instagram ads – one of the fastest and relatively inexpensive ways to promote your business. Read how to generate sales through Instagram Ads. A business account also gives you insight into who follows you, your fans, and audience behaviours. Through Instagram analytics, businesses can evaluate the location of followers, active time online, and which content performs best. These insights enable you to create rich Instagram content, perfect for your target audience that helps build inquiries.
Go into Instagram Settings > Switch to Business Profile > Select your business Facebook page and link it
With a business account, you can post across platforms too. Optimize your Instagram profile by:
Adding business logo as the picture
choosing the right business category
writing an interesting Bio (profile description)
adding a website, email addresses, and numbers
changing CTA links often and making them trackable
Adding Story Highlights so that users can visit your stories later
2. Post content when your audience is active
Instagram analytics offers detailed insights into when your audience is active. Even down to numbers on how many are active on what days and at what time. Check out our ultimate guide for using Instagram analytics to learn all about it. Posting your content during this time increases your chances of engagement with your post and stories. Spend some time monitoring the best times and days to post at. It differs for every brand and its target audience based on their time zones and activity.
Posting time also matters in the case of stories, especially if you plan to run engagement stories for your business. A few trials and regular experimentation with posting time should begin to yield more engagement and an optimized Instagram.
3. Make content discoverable using the right hashtags
The right hashtag strategy can optimize each Instagram post. Instagram lets you use 30 hashtags on posts and 10 on stories. For good Instagram page optimization, add relevant hashtags. Keep these hashtags as a mix of short-tail and long-tail hashtags. For example, #birthdaycake has 28.6M posts. Adding this makes your post highly discoverable. Instagram users search via hashtags on the platform, and adding relevant hashtags puts your content right there in front of them. Long-tail hashtag like #birthdaycakeinDubai has 1000+ posts only. Though it may have lesser volume, using long-tail hashtags is where you will find the right target audience. This is a target audience looking for something specific. Adding a mix of hashtags increases the chances of being discovered.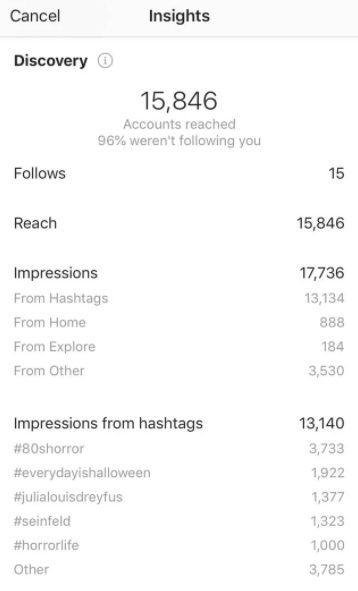 Instagram shares nine different types of hashtags you can use for your business:
Hashtags indicating your product or service, like #sweater or #coffeeshop.
Hashtags indicating your niche in your industry, like #weddingphotographer
For Instagram communities in your industry, like #bakersofinstagram or #foodiesofinstagram.
For special events or seasons, like #whiteday or #nationaldonutday
Hashtags using location, like #pastrynyc, #madeinToronto, or #sydneysweets
Daily hashtags, like #mondaymotivation, #tuesdaytip, or #wellnesswednesday
Hashtags with phrases relevant to what you do, like #becreative or #bakerylove
Hashtags with acronyms, like #qotd
Hashtags with emojis, like #shoes👟
4. Use interesting story ideas to drive engagement
Instagram stories are the 24-hour quickly consumed content that gives a quick glimpse into products and brands. Driving engagement with stories is one of the easiest ways to optimize Instagram for business. How do you do it? Take advantage of the multiple stickers available on the stories. Use polls, rating scales, and AMA stickers to get users to interact with your business. Instagram stories are an excellent way to collect feedback too. Learn the unexpected ways to collect customer feedback on Instagram.
Instagram story is an excellent platform to tell your brand story and highlight your product USPs. You can later save them in your story highlights and build a holistic profile with one highlight each for every product.
5. Engage and Interact with your audience
The more you engage with your audience on your posts and interact with them, the more engagement you will drive. Instagram is a platform meant to drive engagement and conversations. The customer today expects immediate responses when they connect with a business page. This is why responding to comments – positive and negative – is imperative. Often customers Direct Message brands for quick questions on price, store timings, product inquiries, and even place orders. Businesses must make ORM (online reputation management) a part of their Instagram strategy. One way to drive more DM's is to add this CTA on offline advertising and stories. A CTA saying, 'DM us to know more' encourages users to enquire on Instagram.
These are five easy ways to optimize Instagram for business. There are several things you could keep doing. Stay consistent, monitor progress and setbacks, and learn from them. Keep changing things up and optimizing until you find the right balance and then optimize some more. The platform is evolving and thus requires businesses to evolve their strategy too. Need help setting up your Instagram business page or help with Instagram profile optimization? Our social media marketing agency in Mumbai is a digital marketing consultant to several brands globally. We help brands create effective digital strategies and drive business through the digital medium. Hit us up at aniketh@mindstorm.in