A closer look at social media habits in 2022 highlights social media consumption. Online social networks have become a source of entertainment and connection. The ideas, brands, and people that entertain win social media marketing. Facebook, Instagram, and WhatsApp have popularized bite-sized content with the stories feature. It makes content easily consumable, lasts for 24 hours only, and allows businesses to drive engagement with products and services. More than 500 million people use and engage with stories online and 4 million advertisers run stories ads every month. Here's a quick glance into how to use Facebook stories for business.
Facebook Stories for Business
Facebook shares, "With Facebook Stories, people have a place to show and express more of life's moments as they happen, not just the highlights they post on News Feed." People resort to scrolling on their phones as a means of passing time. Thus, they actively expect content from their user feed and the brands they follow.
The nature of stories is personal -a fleeting moment, a glimpse into something new, a shared experience, a recent moment. This is what makes it even more interesting. There is a need to understand how to harness Facebook stories for business. Companies need to go beyond sharing regular updates, and product details, and pushing the business offerings online. The focus here is to create and use content uniquely, in a manner that allows target audiences to interact with the content. Customizing the content across platforms is ideal. But not all businesses have budgets to create different content pieces for Instagram and Facebook stories. Don't miss reading Instagram or Facebook! Which suits your business the best? In such cases, repurposing as per your target audience works fine too, but it should be engaging.
Let's get down to the basics of creating Facebook stories for business.
How to create a story on a business Facebook page
Follow these simple steps to create Facebook stories. We'll also break down each element of Facebook stories so that you can create engaging content for your customers.
Step 1: Open the Facebook page with the Facebook mobile app
Step 2: Your Facebook page gives you access to Add a Story on the profile picture itself.
Step 3: Upload a photo or video you'd like to use for your brand.
Step 4: Choose from a wide variety of filters to make the content interactive
Step 5: Click 'NEXT' and the picture or video is added to your story.
Understanding the Facebook Stories Features
Once you've uploaded your picture or video, you are offered these options as seen below – stickers, text, draw, effects, music, and tag. Facebook stories algorithms proactively offer stickers, emojis, and more that can be used on the images.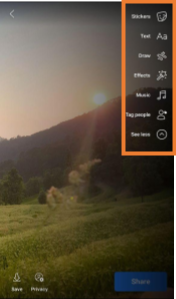 STICKERS: Facebook stories gives you the option of choosing trending stickers that are discoverable as well interactive. These stickers make your content engaging – you can ask a question, run polls, add music and gifs to enhance your Facebook story.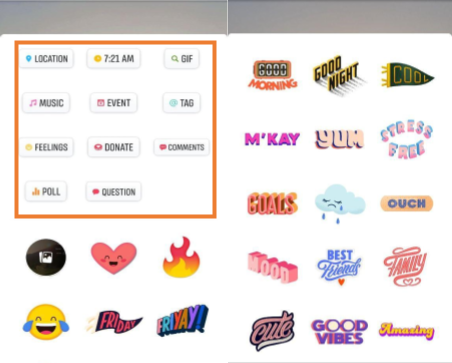 Here are some fun ways that businesses use stickers to drive excitement and engagement on Facebook stories. Brands run interactive quizzes, and polls, generate feedback, and even direct audiences to a call-to-action by linking websites and download buttons.
TEXT and DRAW: Make your stories aesthetically beautiful using different fonts or use the draw tool to highlight certain parts of the image or video.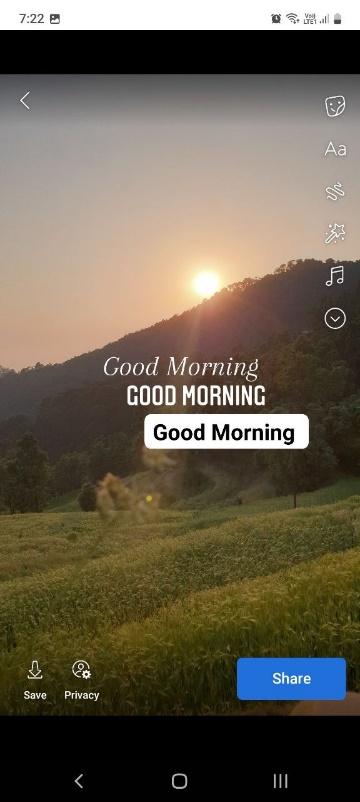 EFFECTS: This is a great tool for showcasing models, or products. Facebook stories offer amazing filters just like Instagram that can be used to brighten, darken or just have a bit of fun. Filters are quite popular and using a trending filter with the right # can take your stories to a larger audience.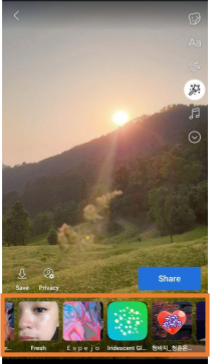 MUSIC: While businesses may not have access to the whole music library individual users have, there's still several sounds to choose from. Adding music to your images again takes stories to a wider audience.
TAG PEOPLE: Tag collaborators, other pages, share UGC content and tag users. This is great to reach out into other networks.
Facebook Stories for Business in Action
Here's how few brands are making regular programming content interesting.
CHOPARD – The choice of the stars for the red carpet. Want to wear the same neckpiece your favourite celeb adorned at the red carpet? Chopard leverages their offline PR strategy with Facebook stories. They showcase how well their products were worn at events and how the customer can avail these select pieces.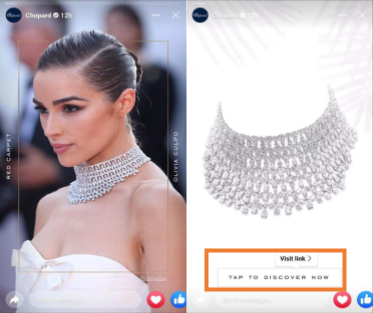 BOOKMYSHOW – Driving ticket sales with excellent creatives and CTA stickers
Le 15 Patisserie – Makes use of fun emojis and text to spotlight the product on sale. Notice the focus is more on the copy that informs customers about the product availability.
From SMEs to large retail businesses to online partners, Facebook stories are a carefully thought-through activity. Every business can use Facebook stories and make the content fun. If your business needs the creative mind of a Social Media Marketing agency in Mumbai, the Mindstorm team is excellent at creating riveting Facebook stories that help brands drive engagement. Your audiences interact and engage with Facebook stories through the easy stickers available at the bottom as well as send business inquiries via DM.
These are measurable and can be viewed with the Facebook insights, by clicking on each story or by accessing the business suite.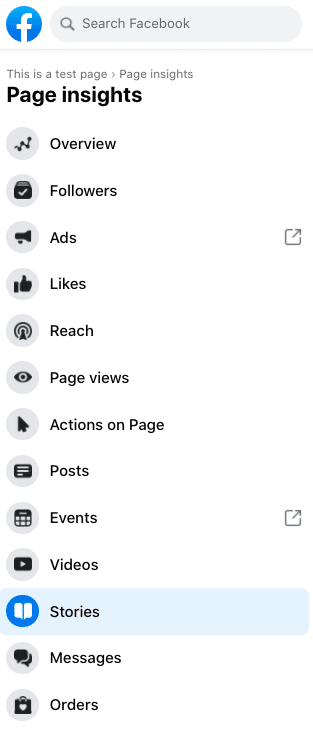 Facebook Story Ads for Business
Facebook shares that businesses can extend their reach and drive more results with stories. In a study of 17 campaigns, Facebook Stories drove cost-efficient brand lift on par with Facebook feed and Instagram Stories. These ads appear on the user's story timeline as part of regular programming. They look and feel exactly like stories – with an addition of a 'sponsored' label. Check out these ads by We Work, Philips and HBR that effectively use Facebook Story Ads.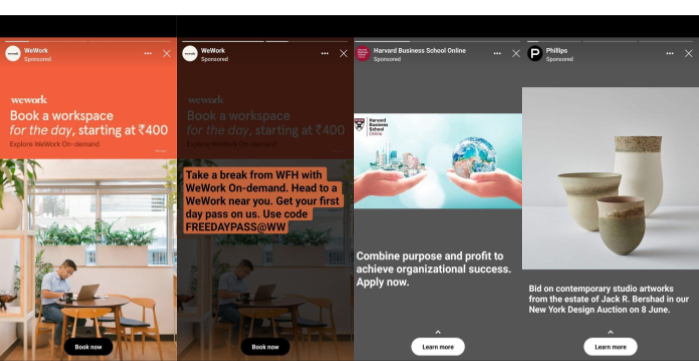 A PR by Facebook quoted,
"For performance marketers, story ads can also inspire people to take action. More than half of people surveyed said they're making more online purchases as a result of seeing stories.4 In addition, 38% of people said that after seeing a product or service in a story they talked to someone about it, and 34% said they went to a store to look for it."
Facebook Stories for Business can boost customer relationships
Facebook continues to be a popular social network platform for several audiences and is widely used on a daily basis. Running Facebook story ads ensures your business is catching the right eyeballs in the right markets. Need a digital marketing agency in Mumbai to talk to? Mindstorm performance marketers customize ad campaigns to drive maximum ROI for every kind of business. Connect with us at aniketh@mindstorm.in. You can also check out this interesting read put together by our in-house team – How to use Facebook Conversion Ads? How do they work?
We hope this complete breakdown of how to use Facebook stories for business motivates your enterprise to actively publish Facebook stories too. As we mentioned, the size of the business does not matter. Facebook stories have the potential of helping every business engage with their customers digitally and push real-time inquiries for businesses.