How often do you think – this call could have been a text? Especially when your favourite brand calls to check shopping experiences or get feedback. We live in a world where texting over WhatsApp is easier than communicating over a call. As per Statista, WhatsApp is the most popular global mobile messenger app worldwide. It has two billion monthly active users and is the third most popular social network worldwide in 2022. It's a promising outlook for businesses to use WhatsApp for business, market brands, and enable customer service. Using WhatsApp for business requires managers and brand custodians to understand its features, benefits, and guidelines.
WhatsApp Business App vs WhatsApp Business API
The simplest way for small and medium businesses to start is to download the WhatsApp Business App from the play store or iOS. Larger enterprises could opt to work with the WhatsApp Business API and platform. The app operates simply with a designated number and offers several features. From showcasing products and services on the profile to quick responses and accessing the same on a web version. It's a great start for any business looking to initiate marketing on WhatsApp.
Larger enterprises that operate with CRM systems and require multiple access can integrate the WhatsApp API into their systems. With API, enterprises can access more insights and tools – verified business profiles, bulk notifications, automation, and more. Businesses can choose between both options based on the volume of transactions and interactions.
While it seems easy, businesses must look at WhatsApp as a strategic marketing tool. Let's look at a few tips on how to use WhatsApp for Business.
How To Use WhatsApp for Business
Think of WhatsApp as a platform, just like you would any other social network. Read: How to use Instagram for business: features and benefits. There are ingenious ways to use the platform to drive marketing and customer support. One of the ways is to leverage the WhatsApp business features and benefits.
Enable better sales and marketing
1. Interesting content makes for good reads.
WhatsApp forwards is popular because it circulates among the right target audience. This is a crucial aspect of marketing. Brands must deliver the right content to the right audiences while using WhatsApp for business.
Remember, no one would download an image or a video from an unknown number. However, accompanied by a brand name and supporting message, prospective customers might choose to open up a message. With existing customers, interesting content works like a charm. Businesses can broadcast content that is: educative, informative, entertaining, and sale-related. The list is endless. From bringing audiences to your website to encouraging shopping during sales, businesses can make it more accessible with WhatsApp.
2. Engage and simplify communications with gifs and emojis
WhatsApp allows businesses to get creative with messages. It's likely your audiences prefer engaging with emojis and polls. Want to connect with your audiences regularly? How about trying out weekly polls or engaging in an emoji contest? Maybe announce launches and offers with more pomp?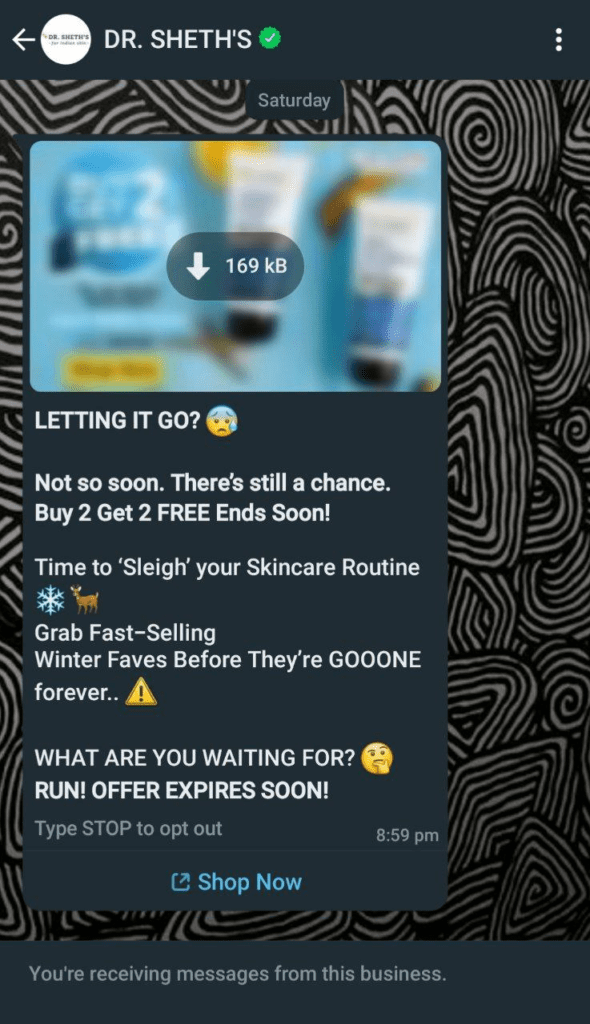 3. Customize marketing messages and make them personal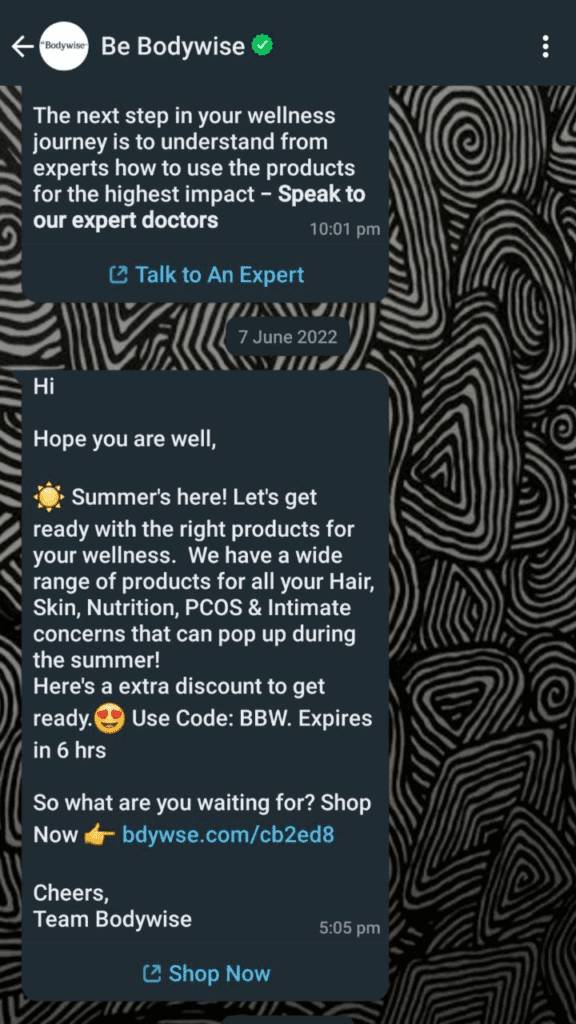 With an existing customer database, customizing offers and deals and nurturing customers become easy over WhatsApp. Most businesses know the general customer lifecycle. Brands can customize offers for one-time buyers or showcase newly launched offers for those who have signed up but not purchased.
4. Build your community
Create exclusive WhatsApp groups and build a community around your product or service. However, creating a channel for exclusive advertising and promotions could get the channel shut down. Instead keep the group interested with tips on products, ideas, or stories about the product and service, testimonials, Q&A sessions, or the latest news. The idea is to have your audiences engage with each other and your brand regularly. WhatsApp groups offer brands a chance to lead and guide the discussion and often influence purchase decisions.
5. Create catalogs for the business
A WhatsApp Business account enables the business to create product catalogs to showcase inventory. Create seasonal product catalogs, sale catalogs, and holiday catalogs to smoothen the selling process. Give easy access to a list of your services and share it with customers on WhatsApp itself.
Drive Customer Service
Everyone loves a personal touch when dealing with a problem. Customers appreciate brands that go the extra mile to solve issues and build relationships. Using WhatsApp for business enables brands to elevate the customer service experience.
1. Address customer queries, and do it quick
One of the WhatsApp business features is automated replies and quick responses. It's one of the easiest ways to address small queries like store timings, general enquiries, thank you, and away messages. A few quick replies ready for frequently asked questions ensure customers know that the business is active.
However, if it's a customer complaint, get to it quickly. WhatsApp is a quick messaging platform. Customers expect quick replies and redressal. When it is difficult to address the 2 pm order-related query, just activate the auto-reply feature to let customers know that you will revert shortly.
2. Customer feedback and after-sales service
Customers are too busy to answer calls and often get annoyed. Avoid the hassle and choose to do a quick feedback survey. WhatsApp Business app allows brands to create rating scales to understand customer satisfaction or engage in conversational messaging to solicit feedback.
Ask queries about product performance and send helpful information about usage or benefits.
3. Share Notifications and Updates
Complement e-commerce with WhatsApp Business API support. From notifications on order confirmations and payments due to delivery, share updates with customers.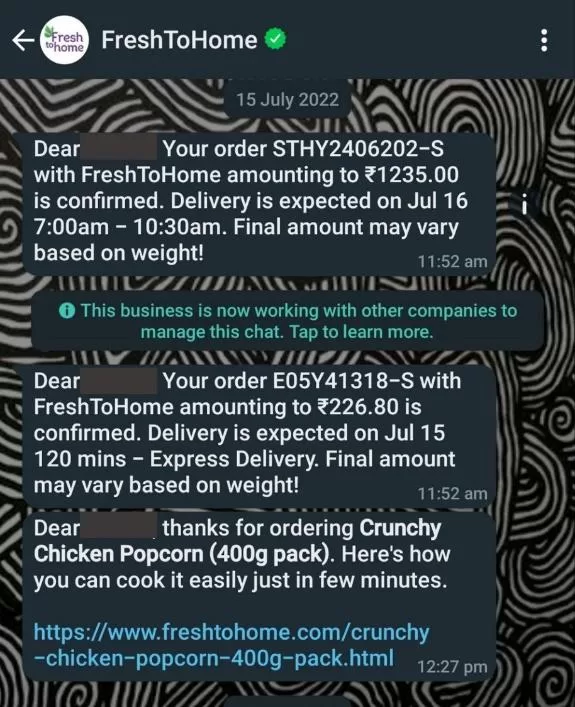 Convert a customer's shopping Wishlist to an actual purchase with notifications on discounts and stock availability. Often customers may miss an email, but it's hard to miss a WhatsApp message of an update or offer from their favourite brand.
These are only a few tips on using WhatsApp for business which gives brands a huge opportunity to do more. Want to leverage the full potential of WhatsApp for Business? It's time to connect with the best digital marketing agency in Mumbai. Our teams specialize in understanding your business, helping drive conversations, and creating seamless customer experiences. Talk to us at – aniketh@mindstorm.in