2021 has been quite the turning moment in digital history. Facebook is now Meta and its metaverse aims to change how people communicate, interact and live. The fashion industry goes digital like the Balenciaga x Fortnite collaboration, where digital garments were limited edition drops that raised the value of highly sought-out pieces. Some businesses have already begun capitalizing on the new entry value. Soon, most businesses will look for advertising scope in the metaverse.
CMO's in 2021 assigned more value to digital spending. Around 72.2% of the marketing budget was spent on pure digital channels. Earned media and digital ads got budget boosts in 2021, reports the 2021 Gartner Annual CMO Spend Survey More companies actively use content marketing, roughly around 82%. These are just a few developments of 2021. With the new year, businesses will need to ramp up their digital marketing efforts to make a difference. Here are the top 7 tips for your digital marketing strategy 2022.
What does your business need to do in the new year in digital marketing?
Tip #1 Building better content, building shoppable content
If 2020 pushed consumers to shop online, by 2021 consumers made it a new way of living. In 2022, businesses will need to create valuable and shoppable content. Consumers are shopping online and consuming content online – this is what brands need to leverage in the new year. Excellent storytelling is key to creating engaging content pieces. Think of every post as an opportunity to deliver an immersive experience with your product.
While you are looking at creating better quality content, don't forget to do it from a lens of inclusivity. Consumers are looking towards brands to take the lead on diversity, equity, and inclusion in their content. A diverse audience has a varied set of expectations. Today more than ever, they expect more representation. Content creation must be thoughtful enough to connect with audiences while keeping it local and getting it right. Some brands have been nailing it and begin with more conversation pieces. However, there is still a long way to go.
Tip #2 SEO and SEM will need to go hand in hand
SEO and SEM strategies must complement each other to see their true result and ROI. A good SEO strategy will yield great ROI on SEM ads. Launch effectively targeted google ad campaigns by analyzing historical data and building budgets. Review each campaign, optimize and review once more. In 2022, re-evaluating budgets and optimization will become crucial.
Strategic keywords will be the winning peg for your SEO efforts. Google crawls good content, so keeping the best value keywords across different content pieces is vital. Evaluating customer keyword strategy is one of the good ways to get the best keywords. Also, consider building a rich set of blogs that offer customers more insight into your product.
Tip #3 Drive digital conversations
In the age of Alexa and Siri, where solutions and answers are available on command, consumers have shorter wait times with businesses too. 82% of modern consumers expect an immediate response from a business. If they like something, they'll instantly connect with the brand on social media, website or switch to another brand if there is no response.
So, making conversational tactics part of your digital marketing strategy is key in the new year. Brands need to get active with their responses- google reviews, DMs, comments on social media.
READ : https://mindstorm.in/blog/orm-case-study-bath-body-works-india
A good response is the most natural way to win hearts- some brands do a fantastic job with conversations, such as Netflix.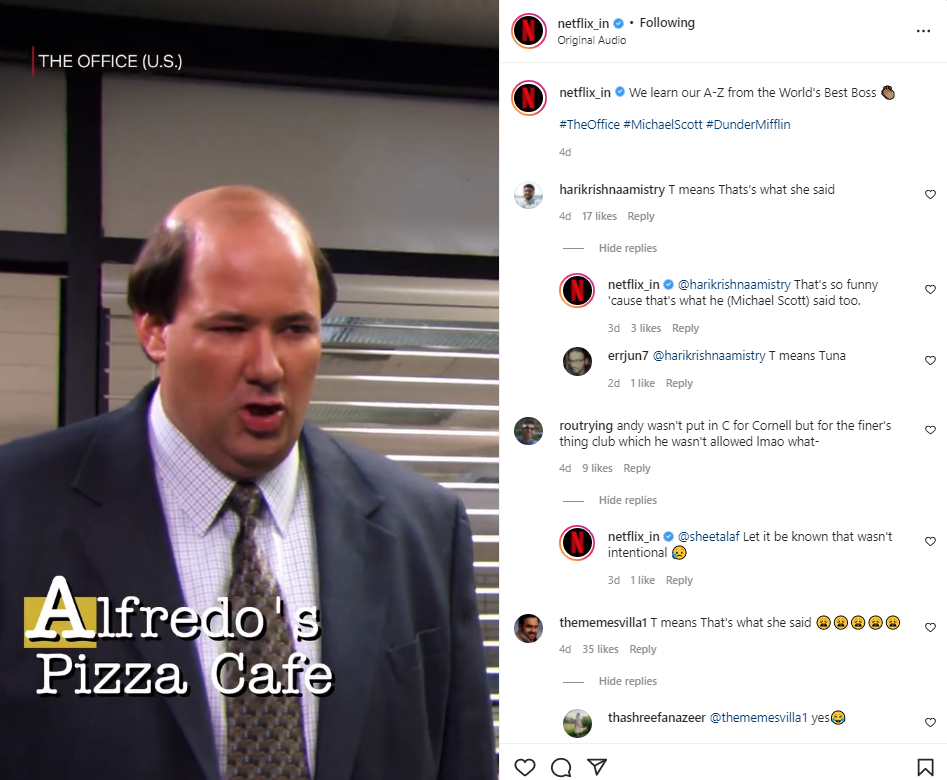 Chatbots are not new to businesses, but humanizing them to include more responses is one way to drive engaging conversations.
Tip #4 Don't leave Pinterest out of social media marketing in 2022
Have you been leaving Pinterest out of your digital marketing strategy in 2021? Maybe this new year, Pinterest can make a difference to your business. 9 in 10 people use Pinterest for purchase inspiration, and 98% say they try new things based on what they find. 85% of Pinners say they use Pinterest to plan new projects. Pinterest shares those campaigns showing someone using your product are more likely to drive sales.
Pinterest has made it easier for creators to monetize their products and easy for consumers to shop the same. The new Pinterest features of Shop from search, Shop from Pins, Product Pins, and more intend to drive sales and improve the discoverability of products. With everyone from boomers to millennials and Gen Z browsing through Pinterest, it's time to set up a shopping and content strategy for your business.
Tip # 5 Videos and more videos in 2022
According to a report by Bain and Company, more than 200 million Indians watched Short Form Videos (SFV) at least once in 2020, spending up to 45 minutes a day. By 2025, three in four internet users will spend an average of 55 to 60 minutes per day consuming content on SFV platforms. Video is the primary form of marketing media created in 2021, followed by blogs (used by more than half of marketing teams) and infographics, says HubSpot.
The rise of reels and Tik Tok has given rise to video content more than ever. Businesses can explain products better in videos and do much more through the medium. Build a content strategy around videos themselves and invest in good content creation. From YouTube to Reels and Tik Tok, video marketing in the new year is inevitable.
Tip #6 Mobile-first marketing, make better websites
Websites are not just calling cards or online brochures. Businesses can drive sales through their websites. Yes! Every business, even the websites that don't support eCommerce. It's all about creating a smart website strategy. Designing UX /UI that meets consumer needs, outstanding graphics, and relevant content. More importantly, optimizing your website for mobile shopping will be a game-changer. Businesses can no longer adapt desktop versions to mobile – you need to start creating mobile-first websites. Design websites that cater to the smartphone user and then adapt to desktop. Streamlined navigation menus, stunning images, quick call-to-action, to collapsible menus; websites are becoming fast. Don't forget to optimize for SERP and voice search on your websites.
Tip #7 The Creator's Economy – Influencer Marketing
In 2021, businesses made $5.78 ROI for every $1 spent on influencer marketing and 67% of brands use Instagram for influencer marketing. Content Creators, influencers are a large part of the creator's economy in 2022. It's likely your customer is following at least one content creator who can influence their decision on products and experiences. Choosing the right mix of influencers and collaborating with them will help build the brand and drive purchase intent. Choose from a gamut of micro and macro influencers to create a brand strategy for the long term. Influencer marketing done inappropriately can backfire to make your brand look inauthentic. Collaborate with creators who align most with your brand and genuinely love your products.
Need help with digital marketing in 2022?
From driving conversations through ORM and running engaging digital campaigns to trending on Twitter, Mindstorm can help you build your digital marketing presence across the world. We cater to a global audience working with brands in more than seven countries. Talk to our experts or connect with us at aniketh@mindstorm.in