Marketers from time to time have come up with strategies and campaigns that have taken not only their industry but the whole world by amazement. The very nature of marketing whether it is on-ground or digital is that they need to be continuously evaluated and innovated so that the brand can resonate with the current trends and the fresh ideologies of the existing and potential target market. It's just like this: you don't need to purchase a brand new car every time, just maintain it well on a consistent, frequent and regular basis.

In recent decades, with digital marketing being a boon for this generation, marketing campaigns have become supremely interesting.
The main idea behind running these campaigns is either to promote brand awareness, skyrocket the sales, directly connect with your target market or tapping the potential market.
But it's seldom possible that all of these are shot with one arrow. Let's look at a few marketing campaigns done by these magnificent brands and get some insights and inspiration. These companies are flagging the marketing campaign maps all green because they are creating campaigns and generating content that is captivating the audience.
Here's a look at them industry-wise.
MEN'S GROOMING-
Dollar shave club – This company converted the boring male routine of shaving to an absolutely innovative concept that came through for them in a video that spoke about how great their blades are. This video helped them capture 7% of the US market, boasted $200 million sales, gained 3 million subscribers and has about 25 million views on youtube on the video below.
BANKING SECTOR-
American Express – There's a lot of buzz about creating an online community for inherent online conversations for its audience. Plenty of companies talk about it but American Express was one of the few companies who put their money where their mouth is and created an Open Forum Website. This is a collaborative website on which the company invites guest authors from distinct sectors to share their knowledge and wisdom. This way American Express did not have to shed a penny to the content contributors who are collectively building this content-rich mega site which is also popular with the search engines.
AVIATION INDUSTRY-
British Airways – This airline company very smartly created an emotional digital campaign to sway away the Indian audience. The campaign highlights the journey of one of its air hostesses who fell in love with India on her first flight to our country. The campaign was called – "Fuelled By Love". The principal idea of this airline company was to showcase that though their service is provided with efficiency, true care is only fuelled by love.
TOURS AND TRAVELS-
Airbnb – This startup darling revolutionised the way people travel and book their accommodations. If we closely look at their social media, they more or less have excelled by putting user-generated content. Come to think of it, this is a very smart marketing move because it signifies word of mouth marketing.
Make My Trip – Make My Trip slew social media marketing with it's Independence day campaign by integrating a special hashtag #DilHaiHindustani. This travel company did this major event to target the youth and take them back into the pre-independence phase. The campaign featured people and incidents like Mangal Pandey, Jallianwala Bagh massacre, etc.
DECOR AND FURNISHINGS-
Ikea – In August 2019, Ikea launched a print media campaign where they asked their female customers to pee on the magazine print advertisement. If the lady is pregnant, the advertisement will show an invisible text offering a discounted price for them to avail at Ikea stores.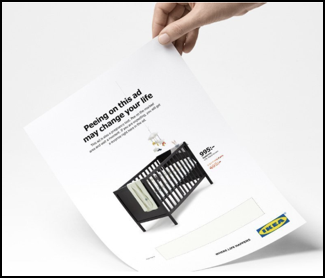 ENTERTAINMENT-
Spotify – Spotify, for a long time now has been showcasing their signature kind of advertising by taking an insight that everyone can relate to and create a mind-boggling campaign around it. This very time they capitalized on the fact that people do wait some extra minutes in the car to listen to their favourite song. In their recent initiatives, set to the tune of Sia's piano version of Elastic Heart, depict this very simple idea:
THE JEWELlRY INDUSTRY-
Tanishq – Tanishq's recent campaign is an ode to the goodness that they bring to all parts of the country. This campaign is spread over three beautifully crafted videos that show the sustainable and ethical business practices employed by them. The videos show how each product is blessed by the lives of people that have been a part of its journey and hence it's called #DuaKaSona.
FMCG SECTOR-
Domino's – Domino's has proved its marketing excellence over and over again with the amazing campaigns they have done since its inception. Their recent initiative "Domino's Anyware" though tech-based has made lives so much easier. This means that you can now order pizza from any smart devices and social handles be it Amazon Alexa or Twitter.
Coca-Cola-This world-class beverage company, for a long time now has created some awe-striking campaigns and content. With the Bringing India-Pakistan together campaign with the small world machines, they delivered exactly what is expected of them. Though the campaign dates back to 2013, it still holds mirrors for all the brands striving to achieve that level of brilliance in their digital campaigns. This small world machine campaign was done through two vending machines in the malls of Lahore and New Delhi and with a 3D touchscreen where strangers from across the two nations could come together and share joy over a bottle of coca-cola.
These brands and case studies clearly indicate one thing- A brand should always try something different and stand by its brand personality.
Impressed by these brands? Want to take your brand marketing to new heights? We, at Mindstorm, create top-of-the-line marketing experiences by offering a 360-degree approach to set new benchmarks every day. Get in touch with us to know more.