What is Instagram Music?
A feature launched by Facebook-owned Instagram known as "Instagram Music" is gaining tons of attention from millennials across the nation. Also, why won't it? It's a feature which was launched in June 2018 in the West which we have now got after more than a year. We did get it late, but is it worth the wait? Let's find out!
Source of image: MyGoodTimes
How it works?
Firstly, can you find this feature on your gram? Uh, no? All you have to do is just update your Instagram and you will have it in your stories along with all the add-ons to your story.
Update to version: (v110.0.0.16.119)
Next:
Just open Instagram and head on to put a story. Once your story is ready, just swipe up to the story add-ons where you will find all your stickers. You will find a new icon there called Music.
Source Of Image: Google Images
Here you will find options for tagging the song of your choice with your story. You can select a segment of the song which you wish to add to your story and add only a particular cropped frame of the song. You already know it by now that when you say "INSTAGRAM", it has always been something creative. Keeping that in mind, Instagram allows you to change the font, size, and color of the lyrics.
Once you are ready with your musical masterpiece, tap on "DONE."
Note: This feature is only available for stories and not for Instagram Posts.
What's in it for Facebook?
The feature is not just limited to Instagram. You can make the most of it on Facebook too. Just create a new post and click on the edit option and the music sticker will appear. Click on the music sticker and follow the same process.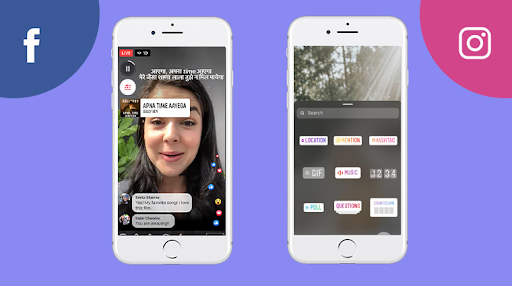 Source Of Image: Social Samosa
Facebook this first quarter signed a partnership with T-series, YRF Music, Zee Music, and other miscellaneous music labels. Finally, the long-awaited Music feature as promised by Facebook and Facebook-owned Instagram is here and we have another reason to get glued to the sultans of social media applications.