Let's see how brands took advantage of digital marketing services on the occasion of Valentine's Day
Brands that attempted special digital campaigns to express love. A special event that lets all brands play with creativity is Valentine's Day. Quirky, cheesy, romantic, empowering or encouraging, the brands have a variety of routes of digital marketing services to connect with their audiences.
1. Tiffany & Co Drop A Hint Campaign
For its 2012 Valentine's Day campaign, the renowned jewelry brand, Tiffany & Co. utilized the power of the internet. Adding a widget of 'Drop A Hint' on its website, the brand allowed women to send out their expectations and desired gifts to their partners through emails, as a (not so) subtle hint.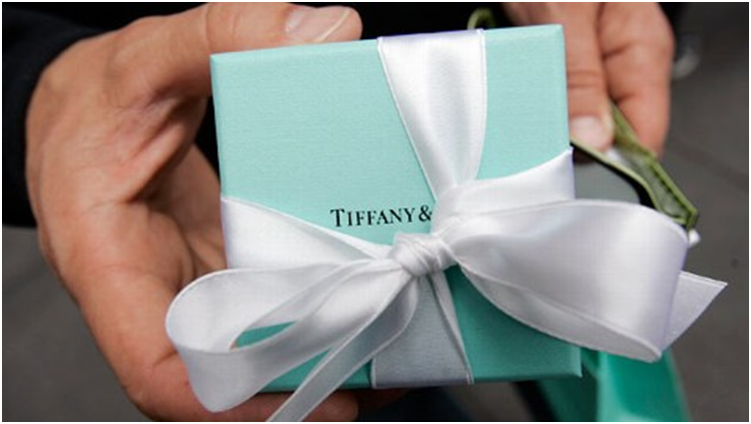 2. Beardo, #GrowYourLove:
Beardo launched a chat video where different personalities spoke about their love for someone. After the entire description, they revealed that "the someone" they were talking about was a man's beard. Predictable, but they did keep us watching till the end.
3. Snapdeal #WhatSheSaid:
A simple and unique social media campaign, which was more like a contest. All the audience had to do was share how their partner reacted receiving a particular gift purchased from Snapdeal. The best answer would win a gifts from Snapdeal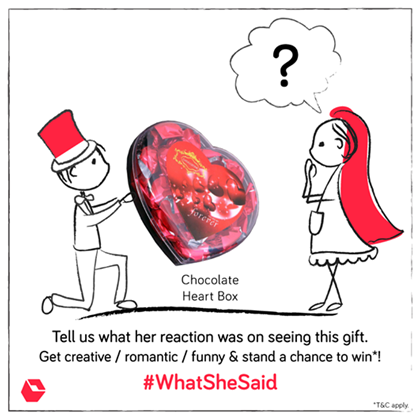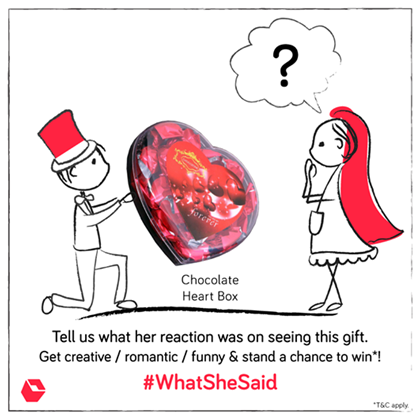 4. Burger King, Adult Meal:
Unusual coming from Burger King, one of a kind campaign that drew attention from all around, was the "Adult Meals" campaign. Only rule is you have to be 18+ to consume this meal. When you buy the combo, you get 2 whoppers, 2 fries, 2 beers and a romantic adult toy. Thus, Burger King covered you right on Valentine's Day.
5. Tanishq, #GiftFullOfLove:
Tanishq broke all stereotypes with its ad campaign #GiftFullOfLove where it gave out the message that Valentine's Day is not just for couples. Showing different situations where one can express love it even portrayed a tiny glimpse of self love winning our heart.
6. Coca-Cola's, Love is in the Air:
Coca-Cola set out love balloons tied up to can of coke and set them free across the city. The balloons being held by weight of the can, they tend to land at different places in the city. As it landed next to people, Coca-cola captured the reaction of the people.
7. Oreo, Red Velvet with a twist:
Oreo created a series of clips where they promoted the Red Velvet Oreo with a twist. The ads put a message that everytime one touches or consumes the product they get the feeling of Love. A total of 6 videos were created to build a countdown towards Valentine's Day
The Karaoke specialist "Lucky Voice" started youtube competition with the hashtag #LuckyVoiceLovers and challenged the audience to sing over youtube. One lucky winner would get fashion vouchers worth 100 pounds.
Going against the digital era the Pilot Pen did the opposite. Encouraging its audience to script down handwritten notes for their loved ones, Pilot did receive a great amount of interaction. The campaign pushed people to show their creativity towards their loved ones.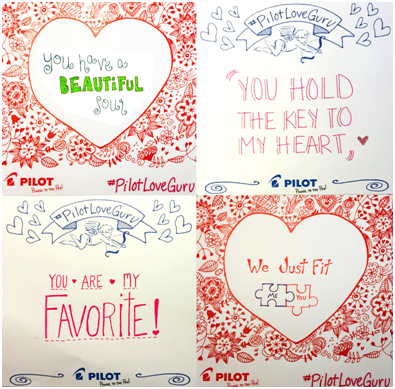 10. Debenhams, Last Minute Gifts:
Debenhams started a campaign which most of us could relate to as remembering special days in busy schedules is a task.Running a campaign with strong copy related to last minute gifts, they started their land page with "Found It". It was perfect for someone looking for a last minute gift and landing on a page which says they found it. Take a look below.
Who wouldn't love a free trip? Exactly! Travelex did it right with the perfect user generated content. The brand encouraged people around to share their most romantic travel photos with the hashtag #TravelexKiss. The best submission would receive a couple of tickets to the most romantic city of the world, Paris. Travelex got a ton of engagement for this digital campaign.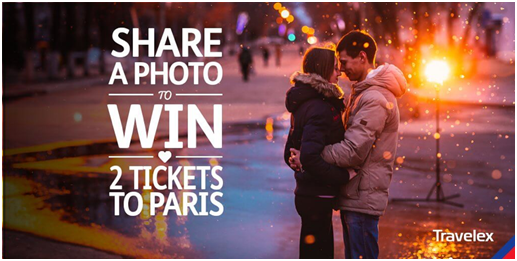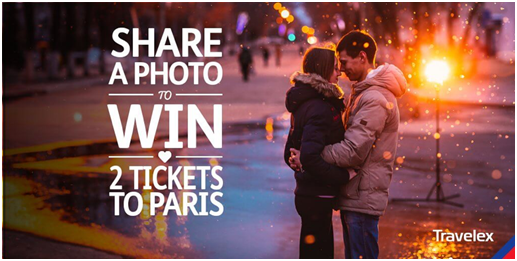 12. "Dunkin' Donuts, Zoosk Dating:
Promoting coffee with fun facts and cute creatives, Dunkin's donuts tied up with Zoosk Dating and came up with a unique Valentine's Day campaign. The audience signing up on Zoosk 2 days prior to the occasion stands a chance to win 5$ mGift from Dunkin' Donuts which would be perfect for any coffee date. All they have to do is register through the special link on Zoosk.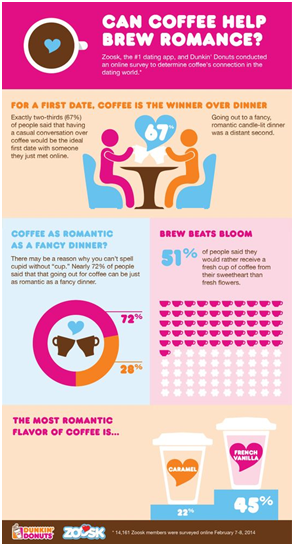 13. Netflix, The Valentine's Day Special:
With their Valentine's Day Special campaign, Netflix tells us love is not limited to genders anymore. The brand shares a light hearted love story and how Netflix is part of it too. Check the video out below:
14. Krispy Kreme, Roulette:
An innovative and fun way to find a date on Valentine's Day was introduced by the brand. All the audience had to do was play a small game online, accessible through facebook and their official website. The audience has to fill in their twitter handle and and sexual preference and the roulette will match them. Sounds fun, doesn't it?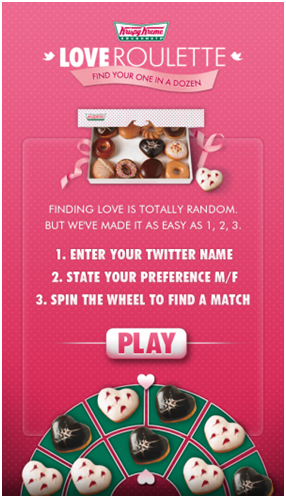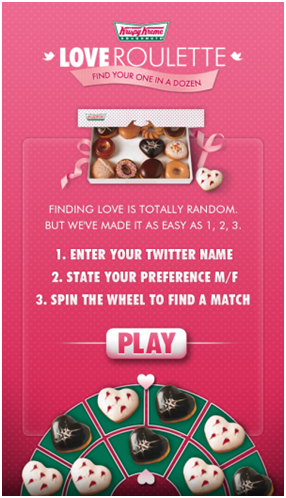 Dyson played cupid in the Valentine's Day ad. They showed an arrow passing through the products finally bursting the the heart shaped balloon. Take a look at the video below.
16. Caulipower, 'CaulMeMaybe' Campaign:
The pizza giant caulipower launched the "CaulMeMaybe" campaign prior to Valentine's Day. Taking a dig at complicated relationships of the audience and the company conducted a study to analyze customers' relationship with pizza. They found that people would eat more pizza if it was healthier. They developed a webpage "caulmemaybe.com" where customers could go online and get the best pizza deals.
17. Nykaa, #LoveByTheMoment:
The "Love by the moment" campaign runs us through the faded relationship of a husband and wife and how on Valentine's Day they recollect their old times. This campaign takes the emotional route and touches our heart with love.
18. Dunkin', Dunkintines Cards:
Dunkin' Donuts launched Dunkintines Cards and the first 100 buyers of a dozen donuts won the dunkintine cards. Also the brand took over a chapel in Vegas where the first 100 couples will win a special bouquet as a Valentine's Day gift.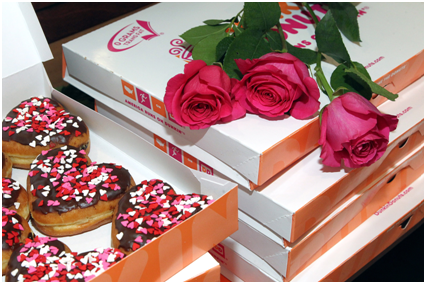 19. Hallmark, 'Missed Moments' Contest:
The contest revolves around fans submitting their best memories to the brand and one lucky couple will win a weekend getaway and also relive and recreate the moment they miss the most at the Hallmark's creative headquarters.
20. Terminix, Bitten by the Love Bug.
The pest control giant will send insect shaped chocolates to couples on Valentine's Day to send the message across "Bitten by the love bug". The chocolates will be in a heart shaped box, ready to be snapped for social media. All you have to do is register on the website and you may receive a box full of bugs with love.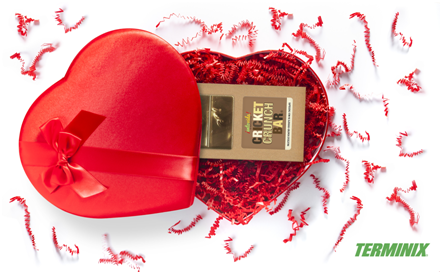 21. Primanti Bros, #LoveAtFirstBite:

A couple who gets engaged at the Primanti Bros at the "Love at First Bite" event will be sponsored a wedding by the brand. The group wedding will be held at the restaurant itself and the guests will be served with "Almost famous sandwiches"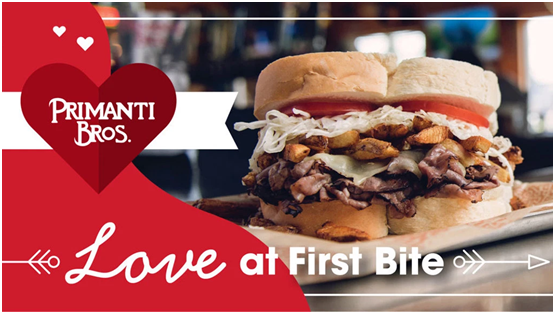 22. Insomnia Cookies Brings Back Two Favorites For Valentine's Day:
On Valentines Day, the brand got its fan favourite Red Velvet cookies and the heart shaped red velvet cake. They gave out the message that "we want to bring back the love on Valentine's Day".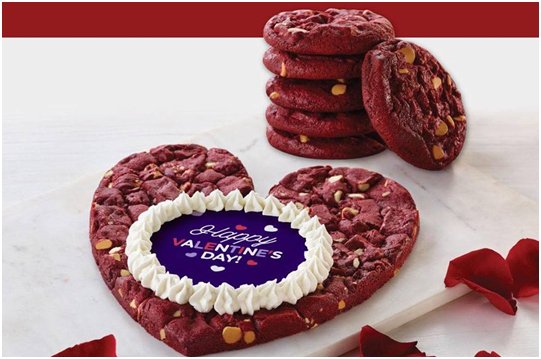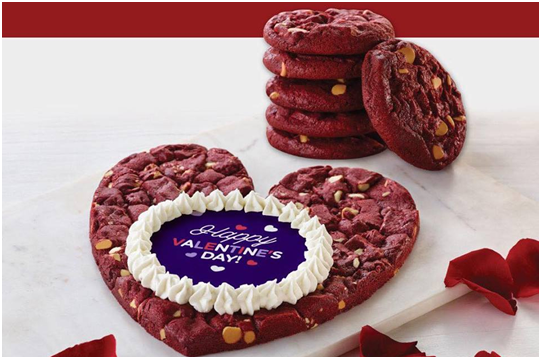 Pizza hut asked its audience to imagine what it would smell like to wear a pizza of the fragrance of your favourite pizza. A little weird but the brand sure did get engagement. Pizza then actually launched the perfume that had a fragrance of a pizza with a message that how would it smell the love for pizza from your loved one.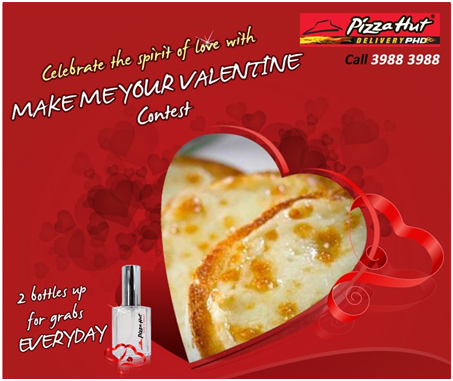 24. Reliance Trendz, #Trender:
Something unique, different and unexpected came from Reliance Trends. The created matchmaking social media campaign which worked right for a few on Valentine's Day. Check the video below to know it all.
Trends presents #Trender

#ContestAlert #TRENDER Get your single friends to date this VDAY. Tag two friends you think are meant to be together in the comments below. 😉 Got tagged? Watch the video to find out how to win it. Get matchtagging and have a #HappyValentinesDay

Posted by Reliance Trends - Official on Friday, 9 February 2018
In a hilarious dig at jewellery brands the ice cream brand shows that all women want is a spoon to eat ice cream. Promoting love for ice cream on Valentine's Day, this brand did it right with a hilarious video.
26. T-Mobile, Break up Letter:

Leveraging the special day like this is a key learning for all brands. T-mobile asked its audience to write a breakup letter to its competitor brands with a reason why they are switching to T-mobile. Not only did they learn about pain points but also earned great engagement.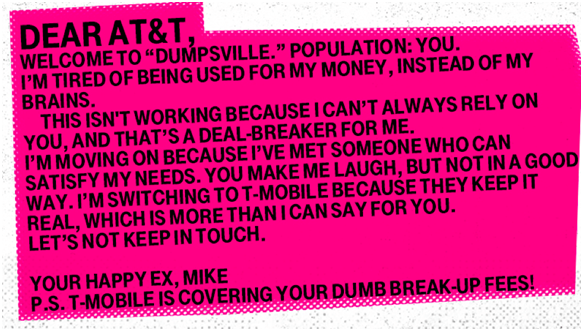 27. Lush, Packaging Campaign:
Great packaging is one of the best ways of marketing. Lush came up with innovative packaging with cute lovey dovey messaging on it. Each messaging had an emotional appeal to it.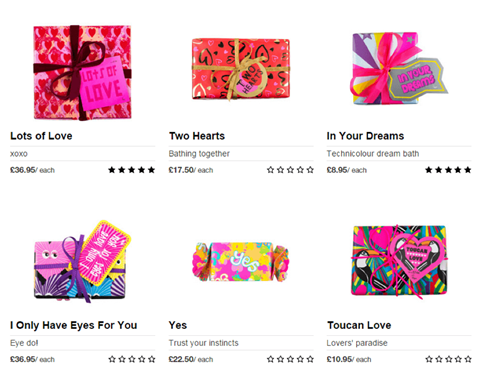 28. Tiffany & Co, Spreading the Love With Stickers:
A great UGC campaign which was reciprocated in masses. All the brand did was create a webpage where the audience had to come and and add stickers to their existing images and share it with the hashtag #BelieveInLove. The audience got an interactive memory to take home with Tiffany & Co. customised tattoos on their images and the brand achieved great engagement.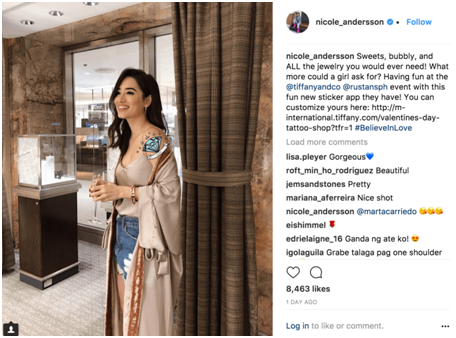 29. Housing.com, #GetARoom:
Simple and to the point communication with their creatives housing.com gave the message right. The name of the campaign itself is self-explanatory.
30. Nina Ricci, Best Friends Over Boyfriends:
Taking the unusual route, Nina Ricci has promoted love for best friends instead of boyfriends with a photo campaign. Celebrating womanhood and love for best friends they launched the campaign #MyBestValentine. Their audience had to upload pictures of their best friends with the hashtag and the brand made the most of the UGCs.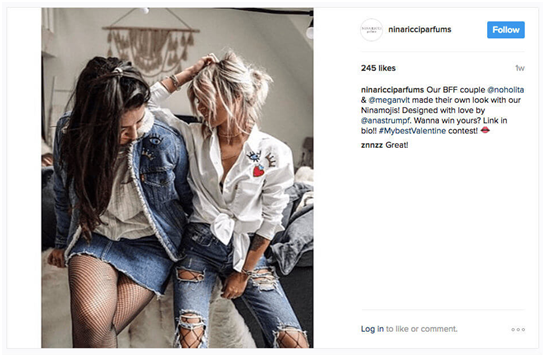 31. Caratlane, How to say it right this Valentine's Day:
Caratlane goes the communication right by promoting their product and empowering women being understood by their partners and being gifted the right kind of presents on this special day.
32. MeUndies, Bringing Couples Together With an Irresistible Photo Campaign:
MeUndies launched an Instagram campaign where they asked couples to post photos of themselves wearing similar boxers or underwear with a hashtag of the brand #MatchMeUndies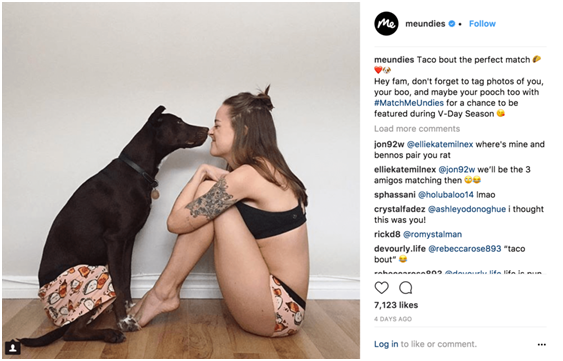 33. Durex, #50GamesToPlay:
Durex literally nailed it with their Valentine's Day Campaign to launch their new product "Performax Intense", a product designed to help couples to be more in sync. The campaign was launched with a backing of the research that gels was one of the products used by couples to experiment new things. They also launched at #50GamesToPlay guide along with campaign.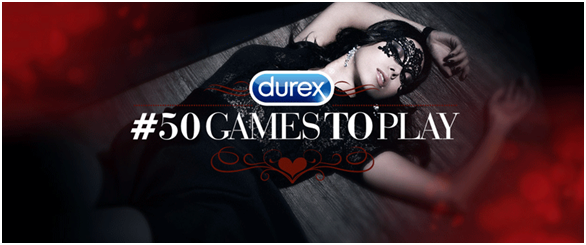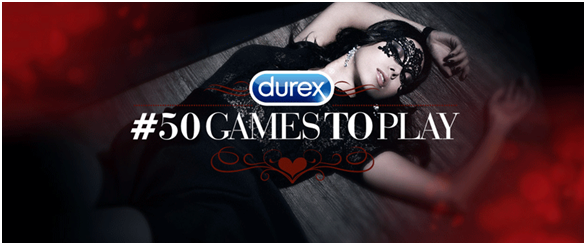 Mindstorm, a 'Hybrid' Digital Marketing Agency in Mumbai delivers exactly that. Our team has expertise on boosting social media presence of the brand and building the right kind of buzz in the target audience. Also lead generation, and test drive promotions before pumping more money on advertising. Through all these services, Mindstorm empowers brands with real-time and personified creative communications to effectively target social media marketing goals. Also make the brand reach new heights.