Digital Marketing – an inevitable aspect of your Business! And Digital Marketing Agencies are an inevitable part of your marketing team!
Festive Season is kicking in for many industries, organizations and brands. Prepping marketing plans, gearing up campaigns and implementation plans are underway. But wait what are you doing on digital? Or on social media? Who is handling your digital marketing? Don't you think your business would enjoy the benefits of hiring a digital marketing agency?
YOUR BUSINESS NEED DIGITAL MARKETING NOW!
If you're an established business, a start-up, new brand, NGO or a retail store – You NEED to be DIGITAL now more than ever! Being digital doesn't mean posting a few messages on Facebook and Instagram or tweeting about your offers and deals. The NEED to be DIGITAL means creating and executing a strategic digital marketing plan that builds your business and brand measurably. While some brands consider handling it in-house, others look to hire a digital agency or a freelance digital marketer.
Digital marketing takes your brand to your customer, when traditional marketing won't. And that too cost-effectively.
First, what does digital marketing in your business mean?
Imagine a customer sitting 30 km away knows your store and the appliances your retail store sells. One look at your website, and he orders his LED TV from you. And all this business at a fraction of the cost of one newspaper advertisement! Yes, the just one of the benefits of hiring a digital marketing agency!
Any marketing communications conducted digitally for your business is Digital Marketing. From talking about your brand and business on your website to responding to queries on your Facebook page – all digitally done! Getting more people to your website or being able to find you on Google or buy your products or engage with you socially on Facebook, Instagram, Twitter, YouTube and more – everything is digital marketing!
Hiring a digital marketing agency offers your business a chance to create successful digital marketing campaigns with measurable results.
What are the benefits of hiring a digital marketing agency as opposed to other options?
Start-ups and small to medium-sized businesses usually handle digital marketing in-house with a team or hire freelancers. Some businesses and brands prefer to completely outsource digital marketing to an agency. Some want to enhance their in-house marketing efforts and support their marketing team with a digital marketing agency.
What to expect when you hire a digital marketing agency, Or build your in-house team or hire a digital marketing freelancer? 
1) BUSINESS GROWTH
Digital Marketing Agencies work as partners to your business and brand. Simply share your business goals, brand objectives and delivery timelines. The digital marketing agency will deliver accordingly.
Whether you are a brand entering a new market or a start-up with a new product- a good digital marketing agency will setup measurable digital goals for your business. Get more traffic to your new e-commerce website, generate more orders or build brand awareness. Businesses and brands are left to focus on setting up the business, running the operations smoothly and growing the brand!
In-house digital teams are great for small sized businesses. Since the teams work within the brand ethos, the team understands about your business first-hand. As a cohesive team, communications are clearer, decisions faster and business will grow. However, prepare yourself to be actively involved with the team on a daily basis. Most internal digital marketing teams aren't able to handle work volumes as the business grows. This leads to more team reviews, adding more members, redundancy in the team. In-house teams find it practically impossible to fulfil all digital marketing goals of the business.
A digital freelancer on the other hand is an economical solution for a small company. If you're just starting out and need someone to handle basic social media marketing, this is a good option. With freelancers, the involvement of the business owner is even more. Leaving you almost no time to work on growing your own business. Also, as the business grows, you might need to start hiring more freelancers, since no single freelancer can do everything in digital marketing.
2) EXPERTISE: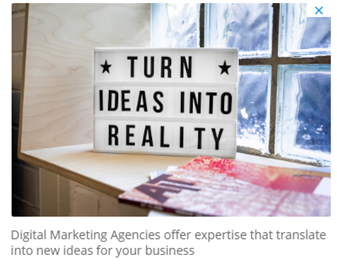 Digital Marketing Agencies are proficient with social media platforms, the latest technology and algorithm updates. Their expertise offers your business holistic digital marketing services such as SEO, Google Ads, Social Media, content marketing and more. Digital marketing teams stay ahead of the curve in the digital world suggesting new ideas and digital solutions.
Digital Marketing Agencies offer expertise that translate into new ideas for your business
One of the biggest benefits of hiring a digital marketing agency is the support to your in-house marketing team is the amplification your marketing campaigns. Digital marketing teams help brands find the right target audience online. They deliver the right content message at the right time for maximum social media reach and results.
In-house digital teams will definitely come with an excellent set of expertise. Since you have a bunch of different professionals at your disposal, you can make the maximum of their skills. Like graphic designers can work on offline campaigns and design other collaterals too. However, working on a single brand, business and industry for a while means the team starts to get complacent. Very often, in-house digital teams are unable to understand and share updates, upgrades and technology among them.
Digital Freelancers do not wholly commit to one industry, brand or business. Yes, you do benefit from the flexibility of paying for only certain tasks and in your own timeframe. Your digital marketing efforts are planned piecemeal, where you have no control on quality once executed. This damages your digital campaigns and marketing goals are not met. You would need to impart your business expertise to the freelancer in order to make your digital campaigns successful.
3) EXPERIENCE:
Digital Marketing agencies work experience spans across a multitude of industries, brands, brand managers, and types of businesses. With years of digital marketing experience, agencies can anticipate the challenges of traditional marketing campaigns and offer solutions to solve these digitally.
Being constantly on-the-go in an ever-evolving digital marketplace, digital marketing agencies have their pulse on latest digital strategies and digital marketing tactics. Their experience handling social media, managing online reputation and paid advertising across various sectors facilitates better digital marketing campaigns for your business.
In-house digital teams are a group of experts and professionals in their own digital spheres. So, your marketing campaign gets a phenomenal boost from varying perspectives. Shared experiences can bring out rich digital campaigns. Overtime though, in-house internal teams develop experiences only within your industry, business and products. This affects the growth of your digital marketing efforts and the growth of business. No new ideas, no new campaigns, no new tools and digital marketing techniques are implemented.
Digital Freelancers typically have experience in only one particular digital space. So you would find a content marketing freelancer, a social media marketing freelancer, an SEO specialist. You can pick and choose whom to work with, on which project and when. This is a good budget friendly option. But not that great an option when you want to run multiple campaigns and have multiple marketing goals at the same time.
4) PEOPLE:
Digital Marketing agencies have an eclectic mix of employees. Another one of the benefits of hiring a digital marketing agency are the people who work on your brand. They hire professionals with various skill sets who are dynamic, creative and passionate about digital marketing.
The industry being so dynamic, digital marketing agencies have a strong network of people in the industry. Hiring a digital marketing agency ensures your brand gets only the best digital marketing professionals and their skills for your brand. This means your brand can leverage the expertise of a digital ad's manager with 8 years of experience while continuing to pay the same cost.
In-house digital team means hiring a social media manager, performance marketer, SEO specialist, content marketer and a graphic designer. And this is the bare minimum team requirement for a successful digital marketing strategy.
Setting up the team internally also means time to set up the campaign, infrastructure for the team and training the team. You would also need to keep a check on employee attrition and hiring back-ups become expensive.
Digital Freelancers are known to be hired and fired in short intervals. This tremendously affects the quality of your digital marketing campaigns.  Since, no one freelancer can manage all aspects of digital marketing, you would need a bunch of freelancers. Then manage each digital specialist in each of the fields above, ensure seamless coordination among them and actively be involved in approvals at each stage. All this while trying to run your business. Seems a lot more expensive, doesn't it?
5) BUDGETS & RESULTS:
Digital marketing agencies help you set your digital marketing budgets against the expected results. They help you decide which digital tools to choose from and allocate your budgets accordingly. Managing budgets for various clients help them optimize your digital marketing budgets better. 
Digital Marketing Agencies work on the concept of (KPI) Key Performance Indicators and ROI. This means that agencies maximize digital marketing budgets to deliver measurable results. The KPI's help brands and businesses measure the effectiveness of the digital marketing campaigns. And you get monthly reports and audits for your digital efforts!
What traffic is on your website? Your brand's social engagement this week? Or desired online sales expected? All captured in a quick report to evaluate your digital spends.
In house digital teams are in tune with the company's marketing efforts. Teams understand the budgets involved for each division. This means sometimes the teams may go overboard with the budgets and ad spends or cut it right there, depending on your company's budgetary policy. Preparing a combined digital campaign report and tracking spends digitally is cumbersome. Each individual team member prepares their own report without offering a holistic review of the digital marketing efforts and outcomes.
Digital Freelancers operate independently and are great at execution of campaigns. This means you would need to set up digital marketing goals, campaigns, budgets and the freelancer will only execute it. The results of the digital marketing campaign cannot effectively be measured. Was it because of your strategy, your product of effective execution? It's difficult to put in place an effective digital campaign or get any measurable results.
HOW DOES MINDSTORM – DIGITAL MARKETING AGENCY HELP?
Mindstorm Digital is a bunch of passionate digital marketers, keen learners and digitally curious people. We believe that if a client's business grows, we grow and everyone upgrades! Besides sharing all the above qualities, we possess as a digital marketing agency, we work as strategic digital partners. Strategic digital partners who plan, develop, and execute your digital marketing strategy and sometimes even consult on business growth. 
But we may not be the right fit for every kind of business. If you're looking to expand exponentially, invest in building your brand digitally, and looking for a long-term partnership, then WE are the best fit. MINDSTORM makes an excellent partner for companies with an internal marketing team wanting to augment digital marketing efforts.
Large companies can afford to have internal teams and reap the benefits of hiring a digital marketing agency. A smaller business must think of budgets and optimum use of working capital, becomes priority.
Small and medium-sized businesses looking to test the digital media platforms for a short period of time need more flexibility. We would recommend you hire a digital marketing freelancer instead. Digital marketing efforts like content marketing, generating quality traffic on your social media page, building an online reputation are all long-term objectives, that cannot be fulfilled quickly.
At MINDSTORM we also offer digital consultancy and digital solutions for businesses with smaller budgets. Leverage our expertise and experience to set up your social media strategy and digital strategy. Execute it with your internal digital team or a digital freelancer.
Always happy to help. Give us a shout at aniketh@mindstorm.in