2.05  billion people are already shopping online almost every day. So, taking your business to an online marketplace is now a necessity more than a choice. People are already searching for products and services online, and have spent $2.8 trillion in the past year. It's high time that you consider establishing and strengthening your presence online. The biggest plus of selling online is the pre-existing customer base.
Along with it the established credibility of the marketplace and the well-designed interface makes it a smart choice to sell products. Online marketplaces connect you with prospective buyers, allowing you to showcase, demonstrate, and encourage your customers to buy products. As an online seller, the success of your business hugely depends on the marketplace you choose depending on your product. From Amazon to Flipkart, over 100 marketplaces exist online and each one of them has a different audience base that requires different strategies to sell. 
Product categories, target audience, ease of selling, listing charges, payment modes, etc… There are several things to consider when choosing a marketplace to sell your products. Moreover, selecting a marketplace that justifies your niche, might seem like a herculean task. 
To help you understand and simplify the process of selecting online marketplaces; below we have gathered some information about various global and Indian marketplaces across different sectors. Keep reading till the end to get a quick understanding of some of the online marketplaces! 
Top Marketplaces for Online sellers in 2021! 
Global Marketplaces

Amazon is a global leader and the most popular online marketplace for businesses, with around 197 million visitors per month in the past year. There are over 5 million online sellers on the Amazon marketplace, while its product sales revenue totaled $118.57 billion in 2020. More than 140,000 third-party sellers surpassed $100,000 in annual sales, making it highly profitable if used correctly and at the same time increasing competition. Started as a bookstore, today Amazon sells everything from a needle to electronics, to the most obscure things on the planet. So, whatever you have to sell on Amazon, there is a market and demand for it. 
To sell on Amazon, you will need to create a seller account, choose a plan, and upload your product listings on AWS Marketplace.  A monthly subscription fee of $39.99 and other charges are incurred for creating a professional seller account. We at Mindstorm help businesses from setting up a seller account, to advertising, to generating monthly sales reports for Business Analytics and everything in between. We provide complete Amazon Marketing Services and ensure the success of your business. Contact aniketh@mindstorm.in for a quick consultation!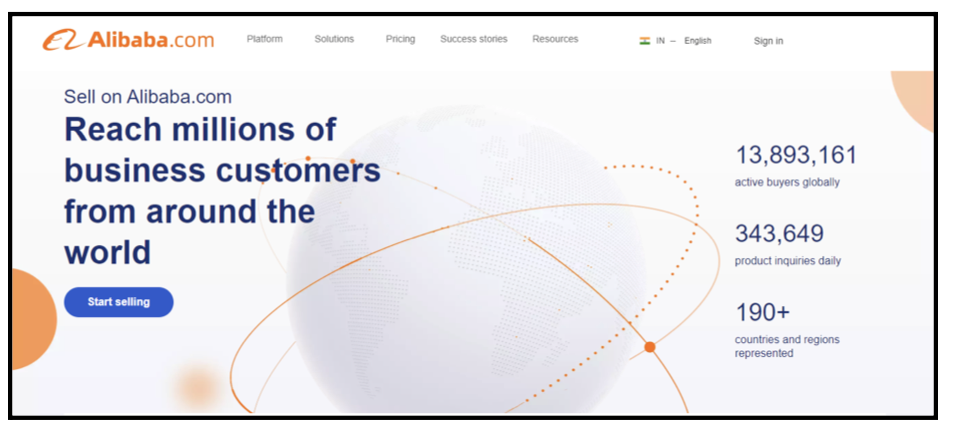 Alibaba.com is one of the largest B2B wholesale marketplaces in the world. The Chinese giant- Alibaba, has its reach in almost 200 countries and allows its vendors to reach B2B and B2C customers, with 754 million active buyers in the year 2020. From apparel to electronics, to almost every product a seller can think of, is bought and sold on Alibaba. To sell on Alibaba, you will need to register, create a company's profile and list your product. Since it has a large vendor and buyer base, it might take several months to years to pop up on Alibaba's search result. Hence, take advantage of Alibaba's educational and training resources for sellers, and decide for yourself if it will be a good fit for your business. Sellers can check all the necessary information like pricing, product listings, and more here!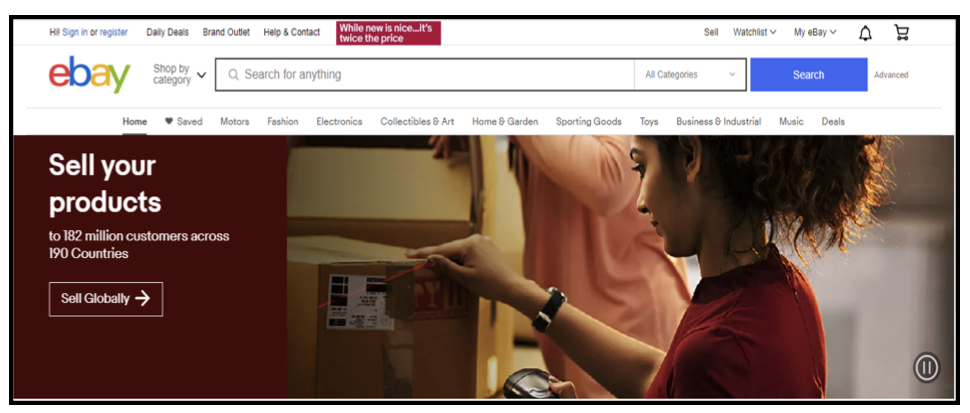 eBay is one of the biggest online retail marketplaces internationally and has been around for more than 25 years. Started as a marketplace for selling used goods to become the world's largest eCommerce marketplace, eBay is home to 182 million customers and boasts $35 billion in domestic sales each year. eBay offers a Quick Start Guide,  a seller information center to help vendors start selling on eBay in 4 simple steps. You can make use of free business consultation, the Business Efficiency Guide, and Seller Development Resources, provided by eBay to start selling. Sellers have the option of setting up eBay stores to get discounted fees and other services. Make sure you are utilizing resources to your advantage, with strategic planning and proper implementation.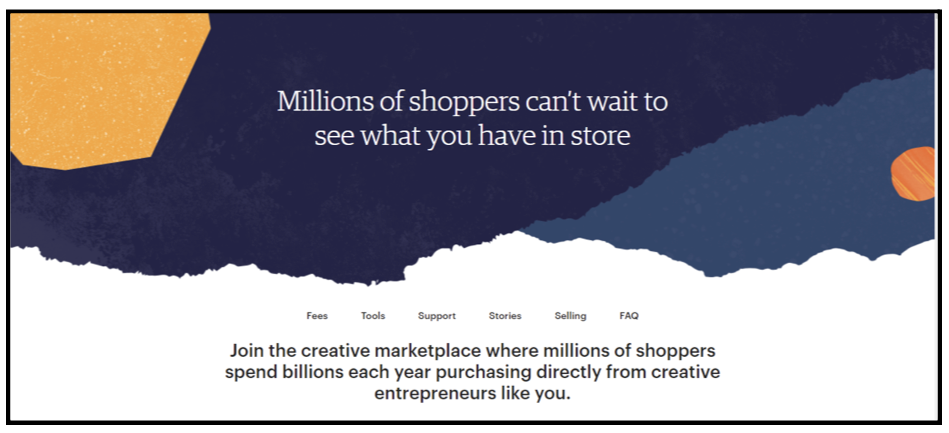 Etsy is an online marketplace for innovative entrepreneurs with a 33 million user base. Etsy typically deals in vintage, handmade products, and craft supplies. Etsy offers an independent selling option, keeping your brand identity unique. Whenever a shopper searches for a product within product pages on Etsy and clicks on your brand name, they will be redirected to your Etsy Storefront. So, whether or not you have a website, you have an independent storefront on the Internet. This makes Etsy a top choice for small to medium-scale crafters, artists, and antique or vintage shops looking to sell online. To sell on Etsy, the registration and setting up a store is free of charge but includes three basic selling fees: a listing fee, a transaction fee, and a payment processing fee. You can Learn How to Sell on Etsy here! 
Wish marketplace has gained popularity among millennials and Genzers representing 60% of its 500 million customers from over 120 countries. Wish has a reasonably active customer base, where 10 million users place more than 2 million orders per day, with the average customer spending 20 minutes on the app daily. Another major reason to sell on Wish is that it receives 500,000 reviews per day, far more than Amazon and eBay. Wish has a diverse niche product, budget items, and premium products from beauty, fashion, electronics, gadgets, etc. You can sign up for free on Wish, for detailed information click here!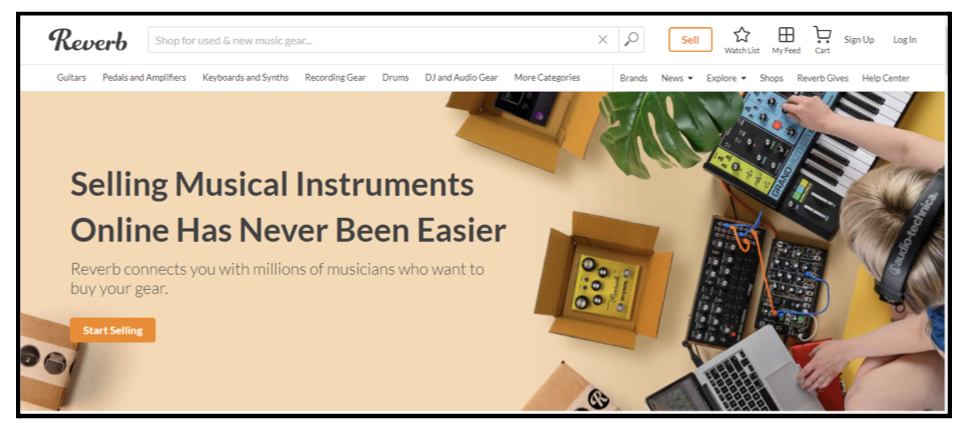 Reverb.com (acquired by Etsy in 2019) is an online marketplace connecting sellers and buyers inclined towards musical instruments. Reverb has 10 million monthly visitors which rounds up to 92.5 million visitors per year, with a customer base of over 1.05 million. The platform is a vibrant community of individuals with a love for music and is a perfect fit for any seller dealing in music gears. To sell on reverb, vendors need to fill out a detailed form, containing all the relevant information with products they wish to sell. The fee breakdown includes the selling fee and payment processing fee. How to Sell on Reverb, contains various valuable resources to help you get started with Reverb.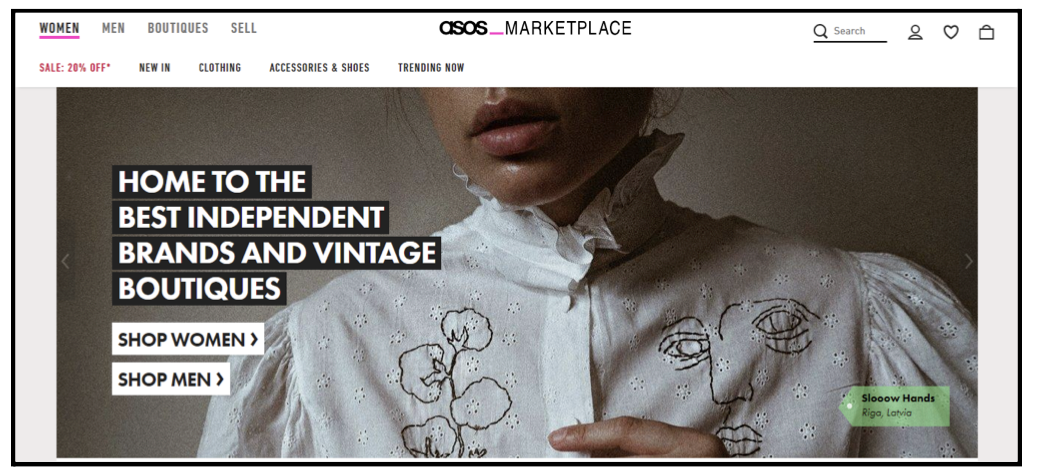 ASOS is a marketplace for young adults bringing together independent labels and vintage selections from all over various countries like the USA, Italy, Spain, Australia, France, Germany, etc. If you are a business dealing in similar products, the ASOS marketplace might result in a profitable choice for a multi-channel strategy. You need to apply for a Boutique to sell on ASOS. The fees involved are subscription fee, commission per sale, and advertising charges (optional). You can learn more about how to sell on ASOS here! ASOS Marketplace is a great opportunity for fashion designers, and clothing brands involved in vintage clothing and off-beat fashion products and accessories. 
Overstock.com sells both low-priced products (bargain sale) and new home decor, furniture, apparel, accessories, kitchenware, and other product categories. With over 20+ years of presence in the online marketplace, Overstock is known for its unique wide selection range and affordable prices. When selling with Overstock vendors get opportunities to expand their business worldwide with access to advertising advisors who can help optimize your marketing potential. You will also get direct access to Buying and Partner Care teams, to help you manage daily operations. The Overstock registration is free and listing fees range from $0.10 to $3.15. To start selling, you need to fill a detailed form requesting a seller account. For more information, check out the Partner Page.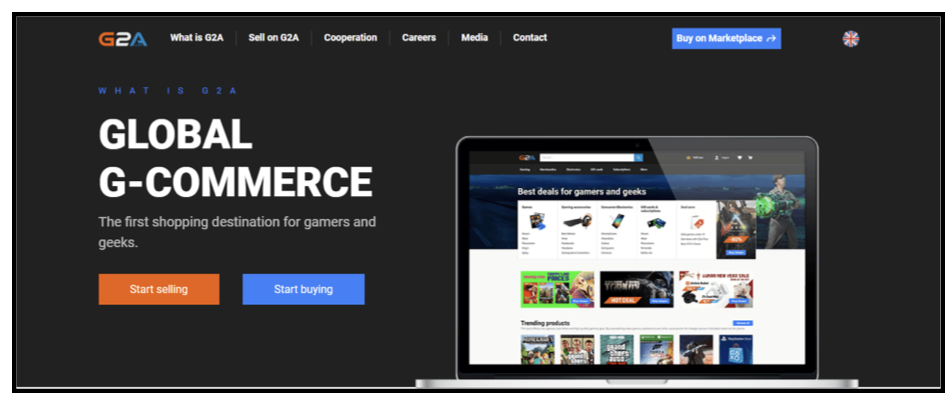 With a massive customer base of 20 million, 307 million visitors in 2020, and over 1 million transactions every month, G2A is a potential online marketplace. You can sell any digital goods including games, gift cards, software, game keys, DLCs, or simply anything based on an activation key or a unique link. Apart from it, a seller can also sell physical items such as gaming equipment and merchandise. It is a marketplace for modern sellers who are targeting gamers. The Integrated API offered by G2A, makes selling across online platforms easy and effective and has helped sellers expand their product catalog and earn more. Check out How to sell on G2A for more details.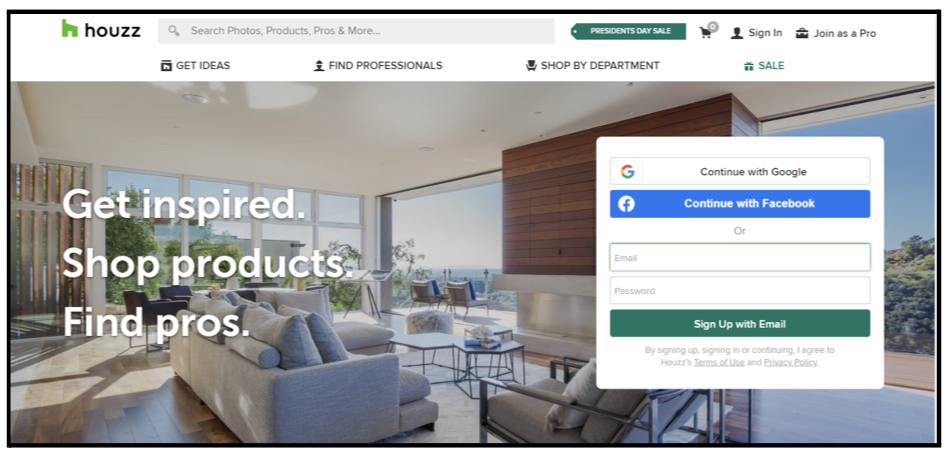 Houzz is a home and interior design, a Scandinavian online marketplace that features a wide range of 10 million different products listed under 900 various categories and subcategories. Houzz has 40 million monthly visitors on the site with more than 20,000 different sellers selling on Houzz. The plus of selling on Houzz is that it uses augmented reality to help consumers visualize furniture and decor in their home and is gaining popularity and success among buyers. To sell on Houzz, check out How do I sell my products on Houzz? Houzz charges 15% commission fees to sell products through their marketplace. If you wish to reach audiences, who are interested in aesthetically pleasing home decor products, the marketplace is the right place for you to sell! 
Indian Marketplace

Flipkart is one of India's largest online marketplaces, with over 37% Indian eCommerce market share. With more than 10 crore registered customers, 10 million daily page visits, and 80 lakh shipments every month to over 1000 cities, Flipkart is an ideal choice for selling products in India. The fee charges vary depending on product categories, while registration is completely free. To start you will have to register yourself at seller.flipkart.com. Sellers can check the complete information on Seller Learning Portal, a platform for supporting sellers on Flipkart. 
With the widest assortment of 30 million+ products across 800+ diverse categories from over 125,000 regional, national, and international brands and retailers, Snapdeal is one of the popular Indian eCommerce marketplaces. You can check more information on Sell Products Online on Snapdeal.com! As a seller in the Indian marketplace, having a Snapdeal seller account as part of a multi-channel strategy would prove profitable.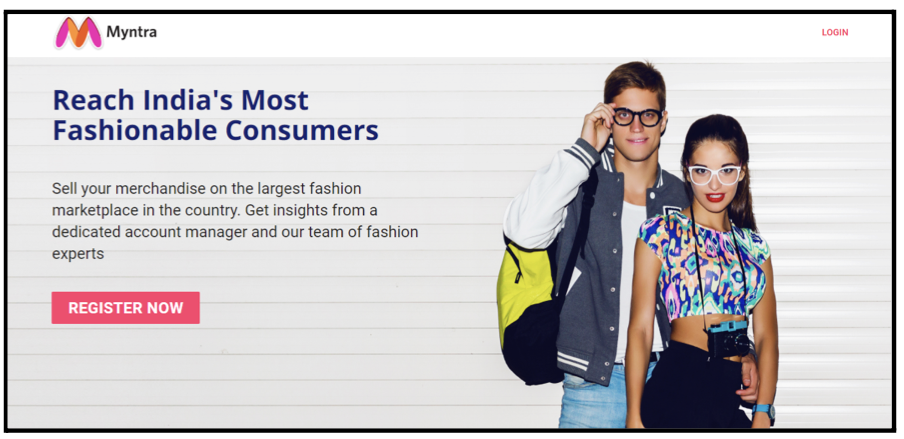 Flipkart owned Myntra is one of the popular online marketplaces for young fashion enthusiasts. With over 3,000 brands on the platform and over 22 million monthly active users, Myntra is a fashion staple for many young Indians. If you are a seller, dealing in fashion products, Myntra should be on top of your fingertips. To start selling with Myntra, sellers need to fill out a registration form, later whether or not to approve the registration, the decision lies with Myntra. The charges vary depending on product categories and sub-categories.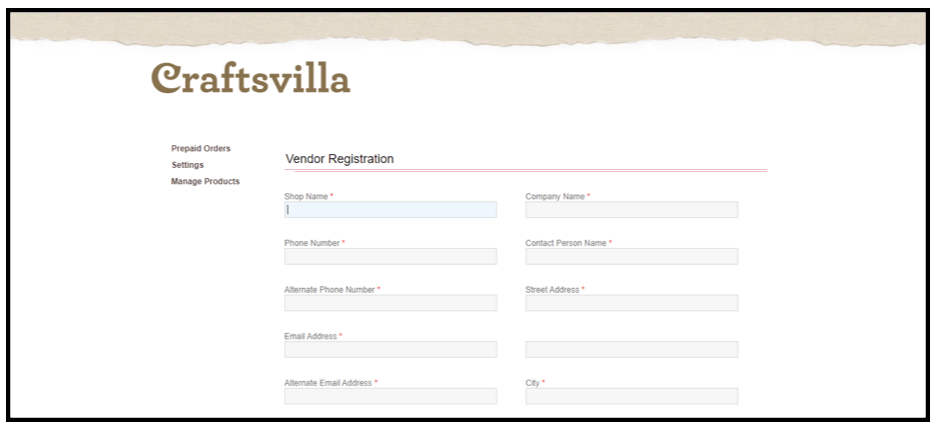 CraftsVilla is a marketplace supporting local artisans, craftsmen, and designers across India, to globally showcase their work, sell handmade products, and preserve the cultural heritage of India. Craftsvilla is considered as the "Hottest Young Company in Handicrafts in India" with a significant customer base and recognition in online marketplaces. If you are selling any handcrafted accessories, sarees, lehengas, casual wear, handcrafted jewellery and more, Craftsvilla is an ideal choice. 
Nykaa is a specialized online marketplace for selling cosmetics, apparel, accessories, and wellness products from multiple brands. With an estimated 5+ million monthly visits, Nykaa has gained popularity among Indian youth. Nykaa offers a unique Virtual Makeover service, where customers can upload their pictures and try on different makeup products, accessories, clothes. If you are dealing in similar products, opting for selling on Nykaa might turn out to be a worthy choice. 

With over 60 million+ registered customer base, Pepperfry is India's leading online marketplace dealing in home furnishing, decor, lamps and lights, modular furniture, and more. You can simply register for a seller account and start selling your products under mentioned categories. The listing is free of cost while commission and other charges vary according to the product category. Visit Partner With Us for more details.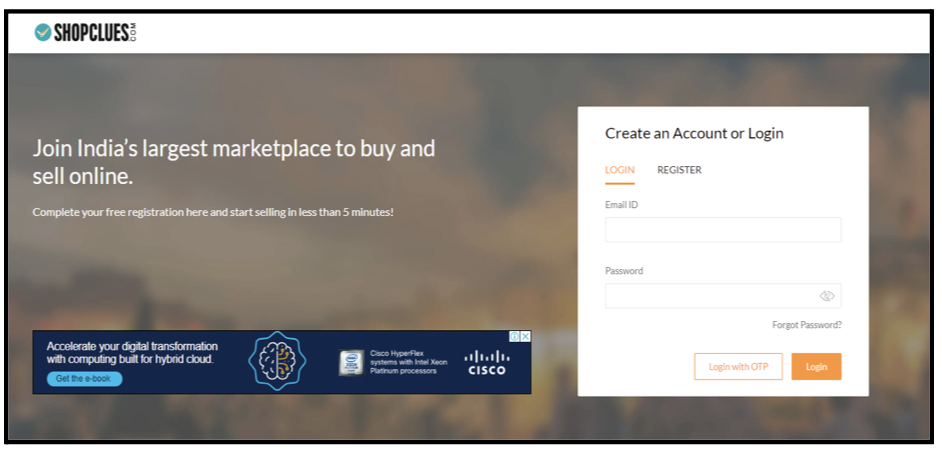 Shopclues is an online marketplace with a wide range of products ranging from electronics, mobile accessories, refurbished mobiles, personal hygiene products, home appliances, apparel, etc. You can check details about How To Sell Products Online With Shop Clues? Click Selling Service Fee by Shop Clues, to know the commission structure for various product categories. Shopclues also provides an array of fulfillment services, which can be used by sellers.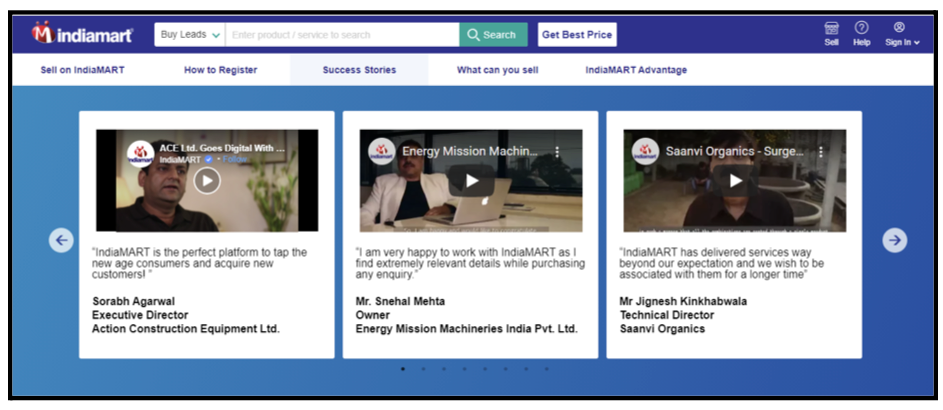 IndiaMart is an online B2B marketplace for Indian companies. It allows Indian manufacturers, suppliers, and exporters to propose their products directly through the platform to get contacted by its visitors. IndiaMart provides a wide range of 60+ million products like medical, safety & protective apparel, packing and supplies materials, garments, industrial and engineering products, and anything a seller can think of buying. With 100+ million buyers and 60+ million suppliers, IndiaMart is one of the leading wholesale marketplaces. IndiaMart has also launched its e-commerce retail platform, Tolexo in 2014. Get details about selling on IndiaMart here!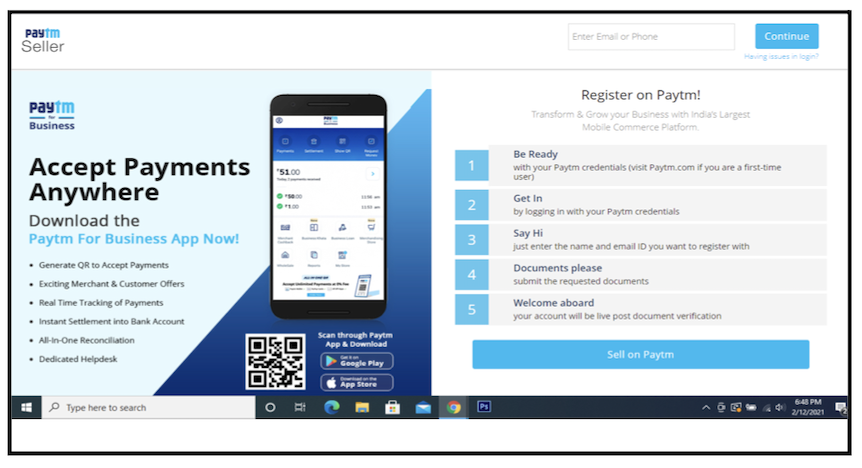 With over 100+ million customers, 100k+ sellers, and reach over thousands of cities, Paytm is one of the leading marketplaces in India. The ease of selling on Paytm makes it a top choice for online sellers and an already established huge customer base is the cherry on the cake. Paytm offers free listing, payment, and other support services. Paytm Marketplace Sign Up, sellers can sign up and start selling with a generated QR code. The charges vary according to the products and service categories. 
Comparison Chart
| | | | | | | |
| --- | --- | --- | --- | --- | --- | --- |
| MarketPlaces | Category  | Reach | Visitors/month  | Avg. Visit Duration (in minutes) | Pages/ visit | Bounce Rate (in %) |
| Amazon | General  | Global | 2.68 B | 06:56 | 8.49 | 35.92 |
| eBay | General  | Global | 947.08 M | 06:45 | 7.37 | 36.95 |
| Etsy | Art/Craft | Global | 422.40 M | 06:14 | 6.67 | 44.71 |
| Flipkart  | General | India | 174. 45 M | 05:03 | 6.47 | 48.44 |
| Wish  | General  | Global | 152.82 M | 03:32 | 5.29 | 50.42 |
| Alibaba  | General  | Global | 110.96 M | 06:04 | 5.30 | 46.44 |
| ASOS | Fashion  | Global | 72.28 M | 06:23 | 9.01 | 36.40 |
| IndiaMart  | General  | India | 68.27 M | 04:07 | 4.12 | 36.07 |
| Overstock  | Home Decor/Design | Global | 44.5 M | 03:55 | 4.60 | 51.28 |
| Myntra  | Fashion  | India | 43.12 M | 05:06 | 6.50 | 50.18 |
| Houzz | Home/ Interior Design  | Global | 23.05 M | 03:15 | 5.19 | 59.19 |
| Snapdeal  | General  | India | 20.37 M | 02:59 | 4.28 | 45.49 |
| Reverb  | Music Gear | Global | 18.18 M | 06:18 | 5.93 | 41.09 |
| G2A | Gaming | Global | 10.55 M | 03:50 | 5.22 | 37.45 |
| Nykaa | Cosmetics/ Fashion | India | 10.21 M | 03:19 | 5.30 | 56.21 |
| Shopclues  | General  | India | 6.88 M | 02:56 | 3.24 | 60.20 |
| Pepperfry  | Furniture/Home | India | 2.98 M | 03:59 | 4.96 | 47.55 |
| Paytm  | General  | India | 2.98 M | 03:07 | 3.62 | 55.35 |
| Craftsvilla | Handcraft/ art | India | 900.33 K | 02:03 | 3.88 | 56.11 |
Source: SimilarWeb
Note: The list comprises estimated web traffic from the past 6 months, by SimilarWeb. The estimations are subject to change. 
No wonder, Amazon and eBay are the top-performing marketplaces, with comparatively low bounce rates than other marketplaces. While niche specific marketplaces, like ASOS and G2A, also have lower bounce rates. Selling products on Amazon and eBay is no doubt a profitable deal, but it is important to note that it might take several months to years to get seen on search results. Therefore, opting for a multi-marketplaces strategy would help your business gain better results. Sellers should also consider niche-specific platforms and then move to general ones. 
Selling on Online Marketplaces may involve a need for expertise and support. Keyword research, setting up a storefront, advertising, profit calculation, inventory management, analytics, and much more. Our team at  Mindstorm, can help your business accomplish these tasks and help generate ROI on your efforts. From planning strategy to execution, and driving results, we provide Complete Digital Marketing Solutions| Internet Marketing Solutions. Contact aniketh@mindstorm.in for a quick consultation. Look forward to helping your business grow! Cheers!