Digital Marketing agency have for long spoken about Content & Design. Great content (in actual sense – content that passes the "I have to tell someone" test) leads to increased interactions, curiosity & excitement.
In Digital Marketing agency, Design started to gain importance quite early. It was when marketers began to focus on how it user interface & user experience played an important role in Content Marketing. This led to the famed title – Content is King & Design is Queen.
I'd want to introduce the third marketing element that's crucial for brands in the Digital Marketing agency space. These are CONVERSATIONS. While Content & Design are planned forms of communication. Conversations are those that happen in real-time to enhance & build buzz about your Brand, Product or Service. Conversations use Content and Design.
Hence they contribute to overcome the limitations of social media platforms which are mostly used as mere publishing platforms in Digital Marketing agency.
We, at 
Mindstorm
(a Digital Marketing agency), believe in building brand conversations by optimizing effective 
Digital Marketing Solutions
. We conducted a digital experiment to show our clients the importance of using "conversations" for their brand in the Digital Space. Below were the results.
We ran the experiment for a month and then compared the results to that of the previous two months. The earlier two months included digital Content & Design-focused updates. They also managed mentions & responded actively. The experiment added a series of digital tactical conversation techniques in order to leverage chatter that created an increased digital buzz about the brand.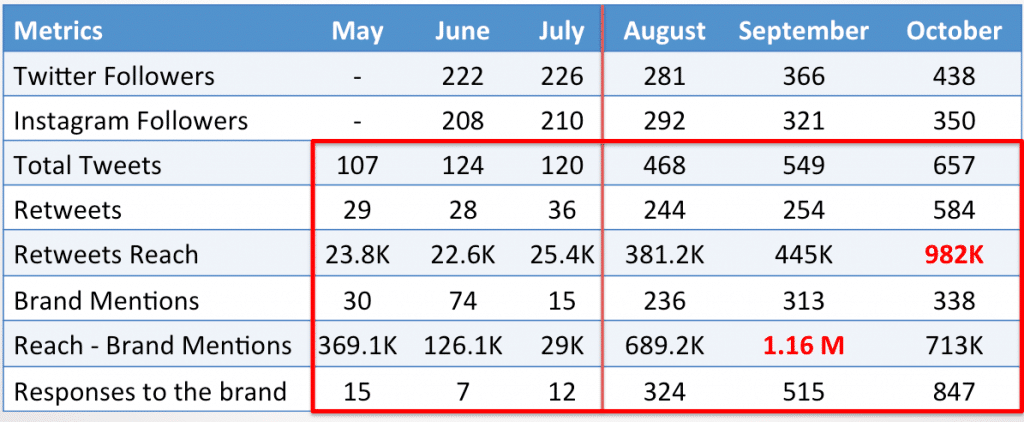 From the above marketing table. You can see that the month of August was the best month for our client in terms of their digital marketing reach. Not only did our Digital Marketing agency help them generate a 1000% increase in reach. We also managed to generate marketing leads, gather insight on potential digital leads, increase curiosity. We also generated marketing conversions, received digital media requests for coverage etc. Overall it was an exciting experience! Our Digital Marketing agency concluded that having exciting conversations has a greater effect than creating content which is planned several days in advance.
NOW TO THE OBVIOUS QUESTION. WHAT MADE OUR DIGITAL MARKETING AGENCY CALL CONVERSATIONS AS SEX!
Unlike digital Content & Design, marketing Conversations are the ones that give Life to our Brand. They enable digital brands to create Brand Personality when they connect with their customers. They facilitate in building a digital community that can amplify their buzz on their own favorite social media marketing platforms. This allows for cross channel social media marketing.
Below are a few examples of exciting digital conversations on the web. Our Digital Marketing agency updates these often. If you spot any, please feel free to share them in the comments so that we can update this article.
Awesome Brand Conversations on Twitter

Best Twitter Conversations between Brands

An electronic retailer sells without selling

Taco Bell responds

American Airlines wins a consumer

Old Spice v/s Taco Bell

Quirky conversations

 – 

More

, 

More

.

Quirky Responses

 – 

More

, 

More

.

The 

Epic conversation

 that went viral & a brand that tactical avoided a legal suite by doing 

this

!
Our Digital Marketing agency can help your brand reach new heights through compelling conversations and apt 
Digital Marketing Solutions
.
Contact
u
s
and get started with epic brand-building conversations.
Stay updated with new Digital Marketing trends by reading our
blog
.
Want to join us? Our Digital Marketing Agency has openings!
See them here.