To keep up with the quickly expanding world of PPC advertising, as a marketer you need to review your practices and applied strategies every now and then. From Google Ads to Microsoft Advertising or Amazon Ads, you have to keep an eye on every single update, new features, or latest product launch to stay relevant and gain the best possible results.
Strategically designed PPC ad campaigns help generate immediate results and double the chances for your business to achieve its predefined goals. To ensure high-end results, it's inevitable that you test, analyze, ditch the poor-performing campaigns and adopt new strategies for generating optimum ROI.
Businesses make an average of $2 in income for every $1 they spend in Google Ads.

Google
To escalate your PPC game and to help you strategize your future implementations better, here are our top recommendations that you can consider for your future PPC campaigns. For professional help to manage, plan or create a PPC campaign, feel free to Contact us. We are a hybrid digital marketing agency, helping clients of diverse needs to develop result-oriented PPC campaigns through rigorous analysis and strategy evaluation. To know more about us, checkout Mindstorm.in.
Practices and Strategies for PPC Advertising in 2021:
1) PPC Automation :
Running a PPC campaign involves innumerable tasks like monitoring ad expenses, targeting the right audience, analyzing ad performance, keeping track of rankings, and many other tasks. But, thanks to PPC Automation marketers can now manage ad campaigns with the help of third-party applications. So, instead of spending your valuable time on trivial and tedious tasks, you can focus on business growth, get busy generating leads or strategize new styles for your ad campaigns.
Moreover, the automation market is constantly expanding and is undoubtedly the future of the advertising industry. According to the Statistics Research Department, the process automation segment is expected to surpass $83 billion by 2021. The automation industry is estimated to generate around $214 billion in 2021 compared to $183 billion in 2019.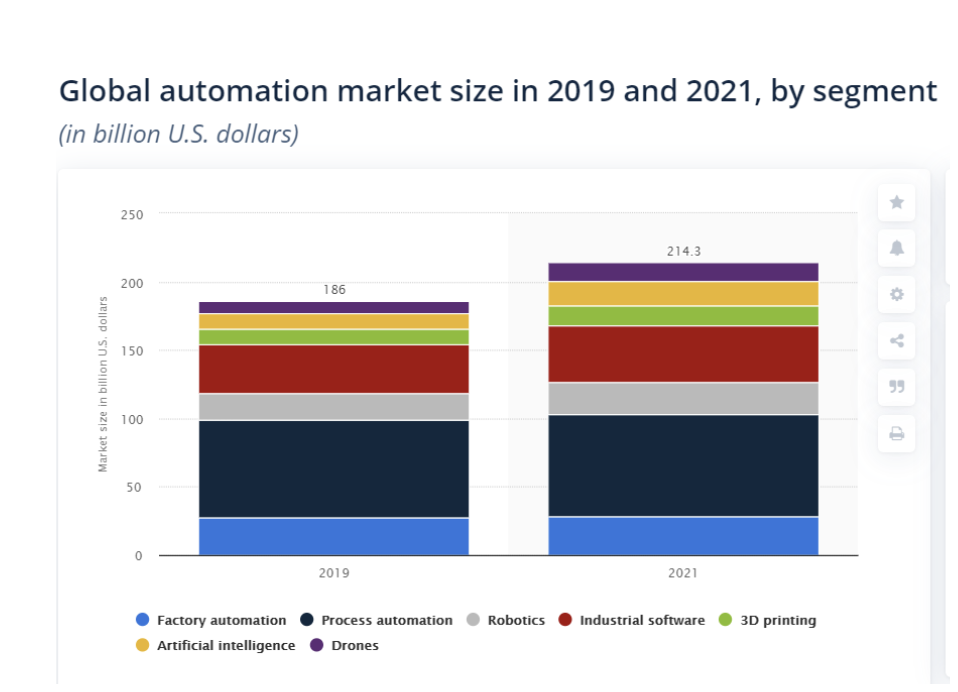 You can make use of various PPC tools like Google Ads Script, Swydo, Semrush PPC Toolkit, Wordstream, etc. Incorporating such tools will lessen your burden through automated bid management, compiling all the campaign-related data into reports, and finding the right type of advertising platform for creative copies. PPC automation makes managing campaigns easier, ensures targeting the right audiences, and helps marketers drive profitable results. Along with it, PPC automation requires regular maintenance and a constant check on tasks scheduled to ensure campaigns meet desired KPI's.
2) Artificial Intelligence for PPC Advertising
Artificial Intelligence is dramatically changing the way advertisers are managing ad campaigns and anticipating the success of their campaigns. AI has paved new ways to reach target audiences, automate campaign processes, and adjust to ever-changing market requirements. It has allowed marketers to create more effective campaigns and create optimized ads. Companies are leveraging the power of AI and machine learning to minimize the repetition of work and generate qualitative results in comparatively less time.
With artificial intelligence, it is possible to:
Anticipate click-through-rates of future ads by use of tools like Adzooma, Responsive Search Ads, and Ad Strength.
Anticipate click-through-rates of future ads by use of tools like Adzooma, Responsive Search Ads, and Ad Strength.
Anticipate click-through-rates of future ads by use of tools like Adzooma, Responsive Search Ads, and Ad Strength.
Anticipate click-through-rates of future ads by use of tools like Adzooma, Responsive Search Ads, and Ad Strength.
From smart-bidding to automated optimization, to efficient analysis, and much more, the AI sector continues to grow and come up with smart solutions to optimize PPC advertising performance to its highest possible level. You can make use of various AI-powered tools like Adzooma, Responsive search ads, etc., and leverage them for the best results of your campaigns.
3) Using Multiple Platforms for PPC Ad Campaigns
Google and Facebook have emerged as the most popular PPC advertising platforms. Over 3 million businesses actively advertise on Facebook (Facebook) and over 1.5 million businesses (American) use Google Adwords, both companies dominate the digital advertising market. But with diverse needs and objectives, people are now shifting to different platforms like LinkedIn (for professionals), Reddit (for discussions), Quora, Instagram, and many such platforms.
Marketers can make use of alternative ad platforms through prior evaluation of audiences to target and the nature of businesses. For instance, if you are marketing a product-based seller company, then Amazon ads might be the best choice for you. Why? Each month more than 197 million people around the world get on their devices and visit Amazon.com. And it sells over 12 million products (Source). Similarly, you can identify appropriate advertising platforms in your niche and start advertising. Like, Instagram ads, Pinterest ads, Linked In ads, Etsy, Reddit ads, Twitter ads, Adroll for disseminating ads on multiple platforms, etc…
Another alternative that you can opt for is Microsoft Advertising. Microsoft ad is an identical competitor of Google ads. Both platforms; Google Ads and Microsoft ads provide search and display ads, yet many advertisers are unaware of the capabilities of the latter platform. According to Microsoft, it connects you with 49.4 million searchers that Google can't reach. Moreover, Bing (Microsoft's search engine) CPCs typically cost about 33-42% less than their AdWords counterparts for comparable keywords (Source). Henceforth, it's important to search for a competent advertising platform, instead of completely depending on Google Adwords and Facebook Ads.
4) Drafting Interactive Advertisement
Knowing your audiences and accordingly creating the content is important for a successful PPC ad campaign. As a marketer, if you targeted the right type of audience at the right time but, the message isn't lucid, your audience will lose interest in your ads. Therefore you should essentially test and come up with more engaging content tailored to specific audiences. Meanwhile, let's have a look at some content styles, that you can use to draft interactive PPC ads;
5) Video Advertisements
With the advent of multiple online video platforms and access to good internet connectivity, videos are gaining popularity among audiences. Various platforms like, Youtube, Instagram, Facebook etc. are driving attention of customers through attractive and interesting ads. Some communicating the qualities of a product or some with a touch of humor. All these advertisements try convincing audiences to take the desired action. Viewers claim they retain 95 percent of a message when obtained via video and a significant 92 percent of mobile users report sharing videos with others (Source). The increased popularity and engagement driving efficiency of video ads makes it a top choice for marketers.
6) Immersive Ads
As brands are becoming more creative with their advertising through virtual reality and augmented reality, marketers are now expected to create ads that aren't only passively consumed but involve audiences. Such ads provide customers with a first-hand experience of the product before they buy it. Immersive ads like the 360-degree video are becoming common these days as it helps customers learn more about the product and interact with the brand. Eg. Louis Vuitton's virtual store. Moreover, if you are focusing on targeting millennials, then the use of AR and VR technology would be the best practice.
7) Miscellaneous Formats
Interactive calculators, assessment ads, polls and survey ads, etc. are some of the ad formats that might help in engaging consumers. Further, the personification of the advertisement also helps when talking about customer experience. In a survey conducted by CMO Council, 43% of marketers said that personalization increased conversions. Consumer respondents were 4x more likely to respond to personalized offers (Source). In 2021, you should consider adding personalization into your advertising strategy to maintain healthier customer relationships.
8) Optimize Voice Search for PPC Campaigns
Voice-based searches are more likely to impact E-commerce marketing. By 2022, 50% of consumers will be using voice shopping, while voice commerce sales will reach $40 billion (Source). Hey Alexa! Put MIVI's DuoPods in my Amazon shopping cart! Just like that. So, if you are running PPC campaigns for E-commerce businesses, you surely have to optimize your campaign for voice search to reach maximum potential customers.
In the run of keywords, a marketer must not underestimate the new norm of voice-based searches through smartphones and home assistants. Ok Google, Hey Alexa, and Hello Siri are making the lives of people easier and more comfortable. We are sure, no marketer would like to fall behind their competitors, hence optimizing PPC campaigns for voice-based searches is essential to show up in voice search results.
9) Advertising on Mobile
The current number of smartphone users in the world today (January 2021) is 3.8 billion, and this means 48.53% of the world's population owns a smartphone (Source). Mobile apps are expected to generate $581 billion in revenue in 2021 (and up to $935 billion by 2023!) via paid downloads and in-app advertising (Source).
Now imagine, missing out on this large chunk of potential customers using mobile phones – scary isn't it? Advertising on mobile for your PPC campaigns in 2021 is inevitable. Opt for tools like Google AdMob. It offers in-app advertising, actionable insights, powerful analytics, and smart reporting, allowing marketers to run effective in-app PPC Campaigns. Another important feature of Google AdMob is smart segmentation.
Smart Segmentation allows advertisers to classify users into two segments, the one who is likely to make in-app purchases and the other unlikely to make the purchase decision. The smart segmentation limits the number of ads to be shown to a consumer who is likely to make a purchase, hence cutting costs and adding value to the user experience. While the other group, unlikely to make a purchase would see more ads comparatively. By incorporating a mobile advertising strategy, you further ensure not to miss out on mobile phone users and generate optimum ROI.
10) Retargeting
Retargeting is an extremely rewarding strategy that you should consider adding to your PPC ad campaigns. Retargeting allows marketers to establish connections with lost customers. Through retargeting campaigns, connect with visitors of your website who left without making a purchase. It enables marketers to show relevant and personalized ads to influence their purchase decisions.
It can lift ad engagement rates to 400% (Source). And the Average CTR for Retargeting ads is 10 times higher than regular display Ads (Source). We recommend investing your resources in persuading lost customers to ensure higher chances of conversions. So, next time you prepare your campaign budget, do not dismiss retargeting.
Make the most out of your PPC Ad Campaigns!
These are some of the recommendations that try implementing. The key practices and strategies to focus on in 2021, will be automation and AI-driven tools, as they generate qualitative and profitable results. Such tools save time, eliminate repetitive tasks, and provide you with extra hours to unfold more opportunities for your business. Bonus tip- keep reevaluating what practices and strategies work best for your business and maintain a comparison report to analyze the effectiveness. Hope this helps you to drive desired results!
In case you need assistance, feel free to reach out to us at ANIKETH@MINDSTORM.IN, and we will help you to create the best performing PPC Ad Campaigns!