Whether you're running your own Facebook and Instagram business page, influencer handle or running a digital marketing agency, you must stay in tune with the features of the apps. Staying updated with the latest features on Facebook and Instagram can help you make rich campaigns and engaging contents. And both platforms have several features that get missed out quite easily and frequently. So here are a few missed out Facebook and Instagram features that can help you out.
Facebook
From activated groups and marketplaces to stories and reels, Facebook can truly help your business flourish by creating cool content.
1) Dark Mode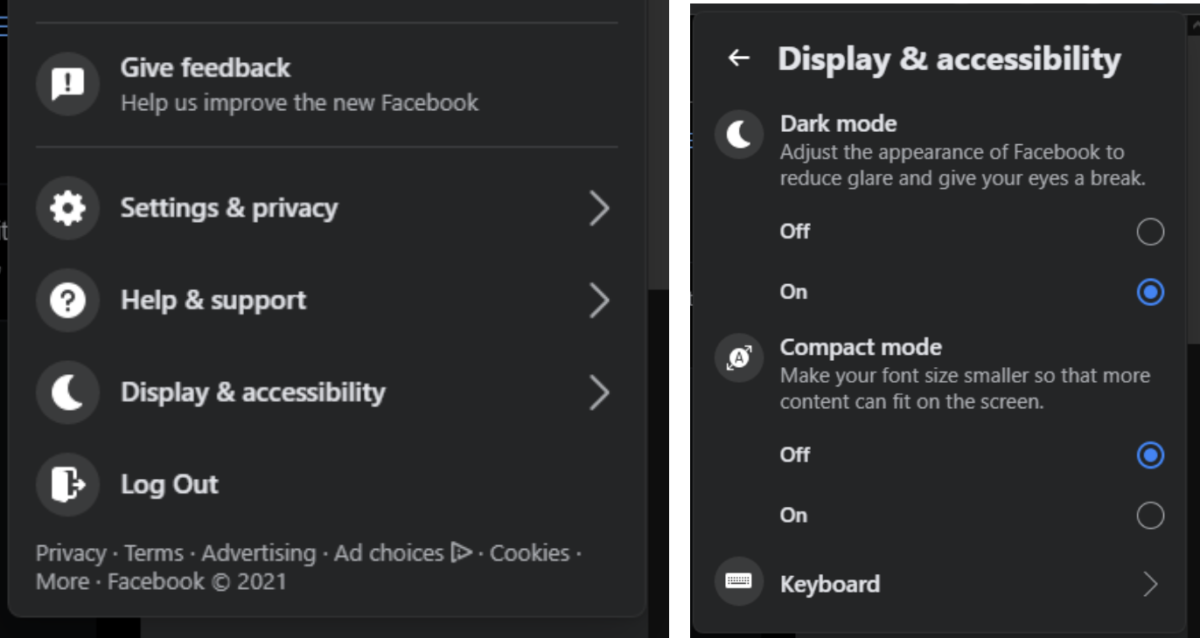 Prefer the dark screen and want to save display energy, simply switch to dark mode on Facebook. Go to Display and accessibility > turn on Dark Mode.
2) Mute Followers/ Fans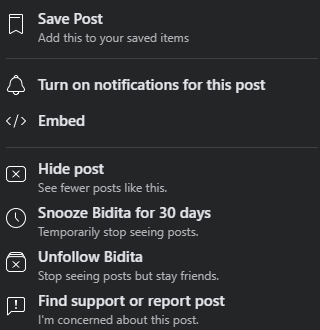 Everyone has that one friend that posts too much or comments too much. How about you don't unfriend them, but simply mute them. Facebook gives you two options to take a break by hitting snooze or unfollowing them and their updates. None of this will reflect on you being friends on the social network.

Do the same with your fans on your page who post annoying comments or get rid of trolls by switching on the profanity filter. Go to settings and edit the page settings by adding words to be blocked from the page and create a strong profanity filter.
You can even ban or unban people and remove them as your fans from your page.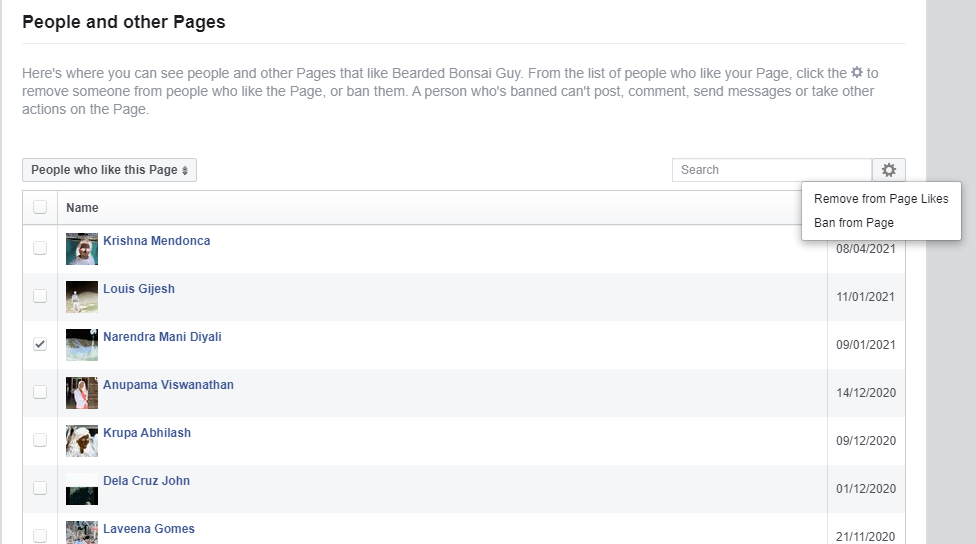 3) New Creator Studio
Yes! Facebook just got a new creator studio and its comprehensive like an easy-to-use dashboard. Get all your insights on stories, posts and schedule them from here too! Facebook also gives pages and creators a platform to test their content.
4) Facebook Live
This is one Facebook feature that has truly changed the way content creators and pages interact with their followers. While anyone can go live, Facebook is also offering advertisers a chance to place their ads in the middle of other creators' Live Streams and allowing creators to monetise this feature.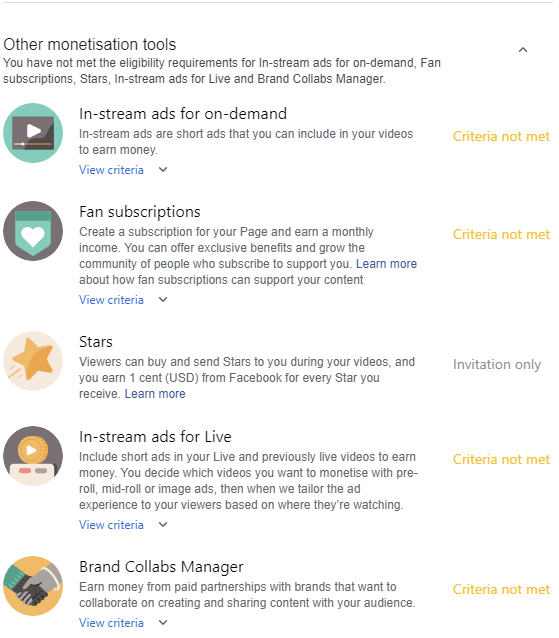 You can check for eligibility and criteria to be met to start monetising content, when you browse the new creator studio under the monetisation tab. In all likelihood, creators must have 60,000 live minutes viewed in the last 60 days to have advertisers place their ads in their streams.
5) Account Status

Users now have a single place called account status to view the pages, groups you manage and account restriction history. This gives you an all-in-one insight into what is happening on your profile.
6) Facebook Post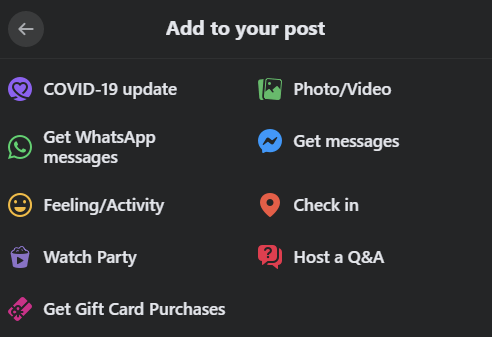 Why have a simple Facebook post of pictures and videos only. How about you spruce things up by adding an exciting Q&A or a watch party for a demo video of a new product. Facebook has added tons of features to engage and excite your fans and followers.
7) Facebook Stories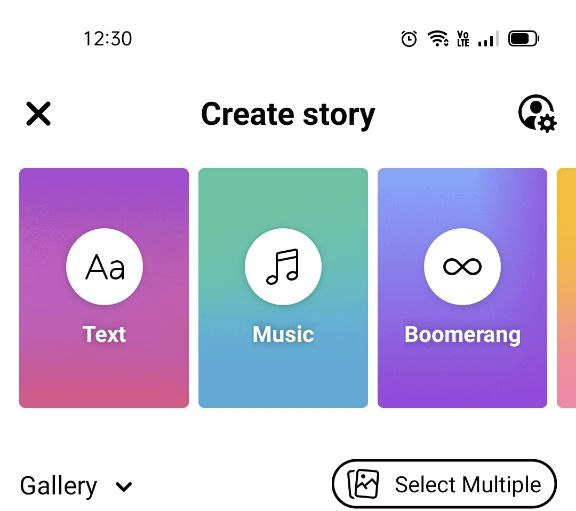 Get fun and creative with Facebook Stories. From adding boomerangs to music to animating your regular pictures and running polls. Most users simply share Instagram stories to Facebook. A direct upload on Facebook stories is one of the most missed out Facebook features.
8) Facebook Rooms
Want a private chat party with your BFF's? Create a live-broadcast video call with up to 50 participants where you can network, stream, chat and even do tutorials. Click on create a room below your status tab and just run with it!
9) Facebook Online Events
The newest addition to your Facebook since August 2020, is another one of the missed-out Facebook Features by most businesses. With the pandemic, several businesses and creators that thrive on demonstrations, shows and events have had their plans fail. Facebook addressed this with a paid online events feature. Run a live podcast, launch a musical show, host art viewings and maybe your own private stand-up comedy show. You can choose from running it on Facebook Live with 500 viewers, through your messenger with upto 50 members or through an external link inviting upto 500 people. Give access to participants to add guests too. You can live stream events, performances and gatherings on Facebook. Viewers can watch from a phone, computer or connected TV.
Instagram
Part of the Facebook family, several Instagram features too have undergone upgrades. Newest additions being Reels, Engaging story features, and more!
1) Instagram Posting
Whether it's uploading a post, story or reel, Instagram gives you one common option now. On the Top right-hand corner. Missed it earlier? Now you know!
2) Reels
Instagram's newest addition has not yet reached its full potential and is often a feature that is missed out in brand campaigns. From creating 15 – 30 sec video reels to remixing these reels – YES! You can now remix reels – Reels is the newest Instagram feature that is doing the rounds among users. Want to find out more? Read – A Guide to Using Instagram Reels in Your Marketing Plan
3) Stories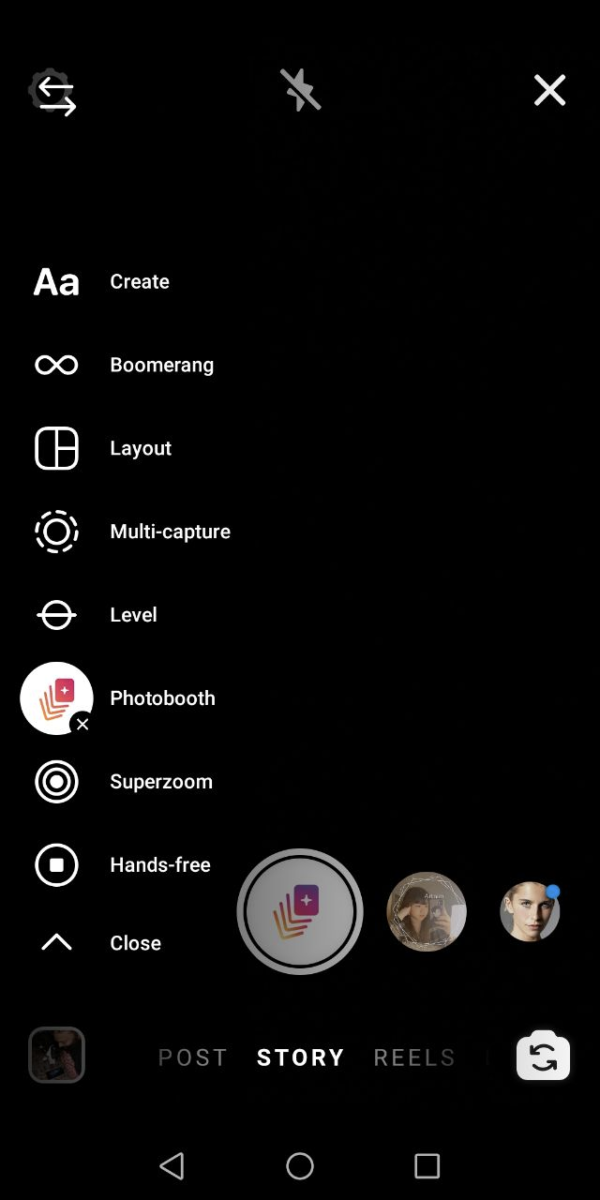 Well, there are so many features to be used in Instagram stories – polls, Q&A, Quizzes – that there is no way your stories can ever get boring. However, interesting Instagram features usually missed out are the layout option, photobooth and multi-capture features. You can now create interesting layouts, fun stories and stitch them all together to make cool brand videos. Did we mention the cool stories fonts too? Content creators and brands have a whole new canvas to experiment on!
4) Name Tag
A QR code of sorts to quickly add followers to your handle. The Name Tag feature was a trend when introduced, but has become an Instagram feature that is missed out quite often today. Share your name tags instead of spelling it out and make it easy for your followers to jump on to your handle.
5) Direct Messaging
This is where brand conversations come alive. And you can make this super fun with the new Instagram features that you may have missed. Now when your friend sends you an image, reply in return with an equally cool image. Hit the camera icon at the bottom and capture a reply, resize the photo, and use stickers, text, and drawings to transform it into a fun reply. You can even control the replays!
6) Recover Deleted Reels & Stories
All too often there have been hacks into popular content creators accounts. So, Instagram has a cool feature that you can instantly activate to archive your deleted pictures. Stories remain in the folder up to 24 hours; all other content is deleted after 30 days.
If you want to delete or restore content from Recently Deleted permanently, Instagram will ask you to verify that you are the right account holder before proceeding.
7) AR Filters
Brands are creating AR filters and users are lapping them up. An increasing number of Instagram users are using the Instagram Face Filters to create fun stories. This is an engaging Instagram feature that may get missed out, but must be part of your digital marketing strategy.
Now that you've read our guide on the most missed out Facebook & Instagram features, how about you go and try them all out. Still wondering how to navigate your social media strategy and Facebook ads? Talk to the experts at Mindstorm – Digital Marketing Agency in Mumbai to create a winning social media strategy for your brand at aniketh@mindstorm.in